BW – ATF Dingo 2 GE A2.3 PatSich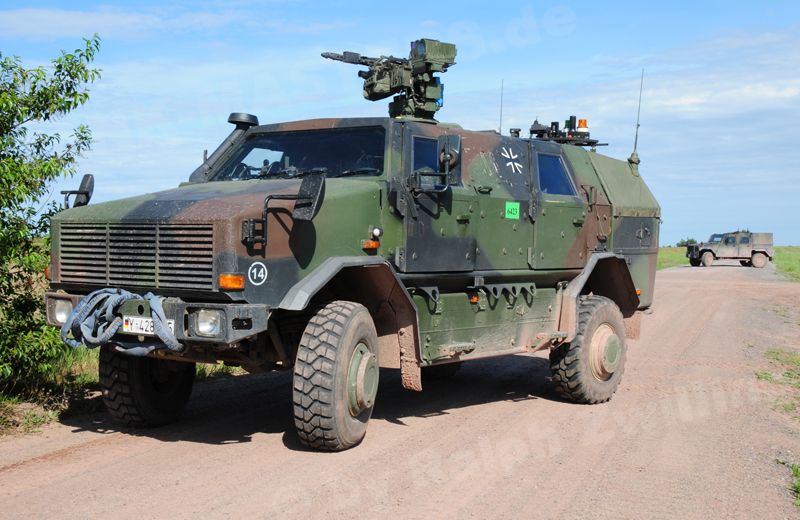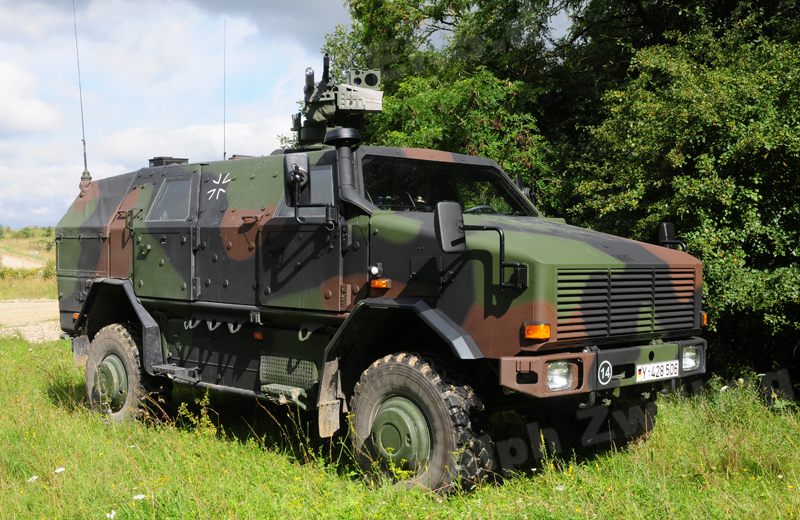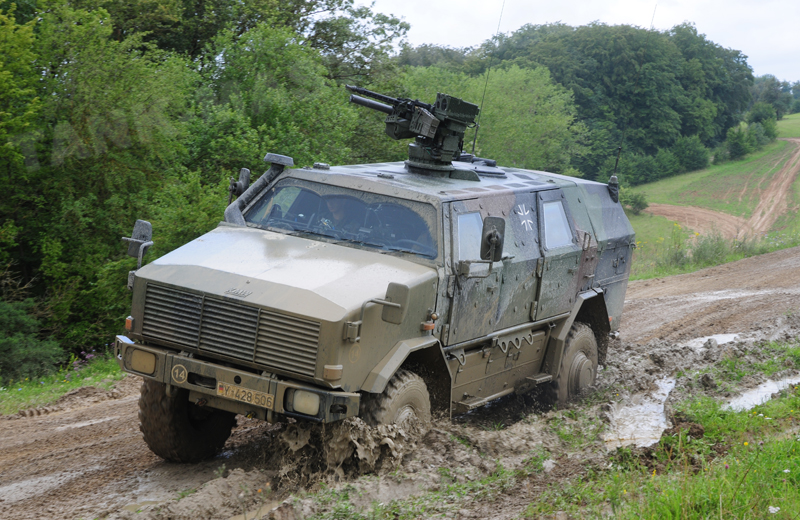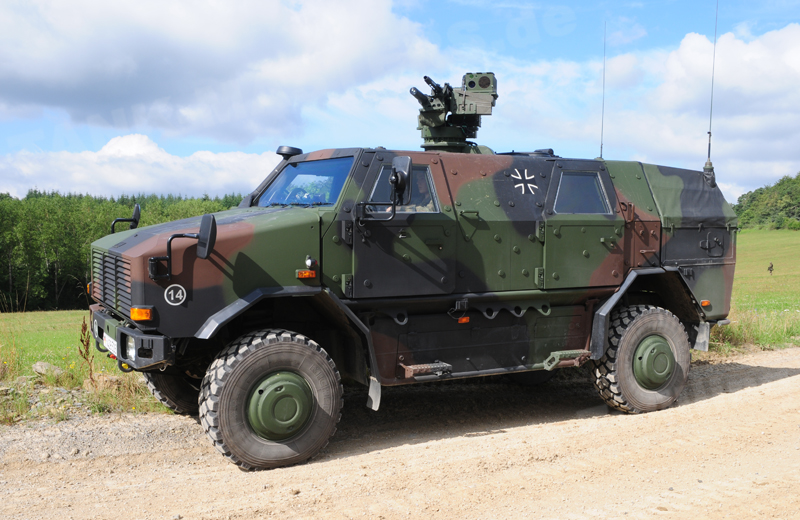 ATF Dingo 2 GE A2.3 Patrouillen- und Sicherungsfahrzeug
In 2008 KMW received an order from the Bundeswehr to deliver 50 ATF Dingo 2 GE A2.3 Patrol and Security Vehicles with a light FLW 100 RCWS. Only a year later, an additional 34 vehicles with a heavy FLW 200 RCWS were ordered, and these received the designation ATF Dingo 2 GE A2.3 KWS Patrol and Security Vehicle. The vehicles are still called ATF Dingo 2 GE A2.3 Patrol and Security Vehicle, regardless of what weapon station is mounted.
The weapon station is controlled by the gunner sitting in the centre of the rear seat row in the armoured cell. He has a joystick to observe, aim and fire the weapon, as well as a control unit with a 12-inch colour monitor fitted to a special mount on the roof of the cell. Thanks to modular construction, fast and cost-efficient replacement of worn parts and assemblies is possible. By using a high-performance CCD day-sight camera with 10x optical zoom and a thermal-imaging system coupled with a laser rangefinder, it is possible to observe the battlefield as well as to recognise and engage targets by day or night.
The FLW 100 is armed with a 7.62mm x 51 MG3A1T, for which only 250 ready rounds are available. Reloading the weapon is accomplished by opening the roof hatch. The 360° electrically controlled weapon station has an elevation range of between -15° and +70°, making it possible to engage targets in upper floors when fighting in urban terrain. The heavy FLW 200 RCWS can be armed with a 12.7mm x 99 M2HBQCB or a 40mm x 53 automatic grenade launcher depending on mission requirements. These weapons have much more impact on the target area. The LAZ 400 sensor head of the FLW 200 consists of a CCD day-sight camera, cooled thermal-imaging system, laser rangefinder and automatic gun-laying drives.
| | Crew: | 6 |
| --- | --- | --- |
| | Gross Vehicle Weight: | 12.500kg |
| | Military Load Classification: | 14 |
| | Length: | 6.11m |
| | Width: | 2.39m |
| | Height with weapon station: | 3.25m |
| | Ground Clearance: | 0.49m |
| | Grade: | 00 |
| | Slope: | 00 |
Download PDF file with sample photos
Publication about the ATF Dingo 2
Yearbook – Armoured Vehicles of the Modern German Army 2018
Yearbook – Armoured Vehicles of the Modern German Army 2019
Yearbook – Armoured Vehicles of the Modern German Army 2020
If you are interested in publishing or purchasing our photos or reports, please feel free to contact us via the following email address: contact@tank-masters.de