BW – ATF Dingo 2 GE A1 PatSich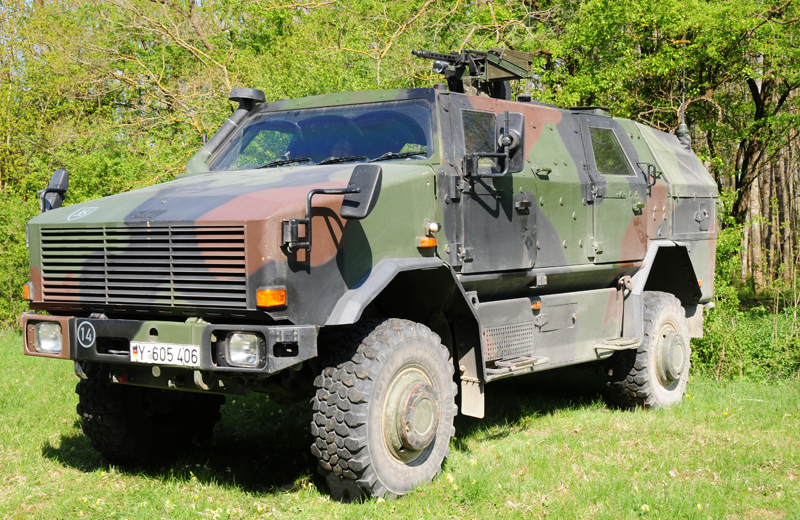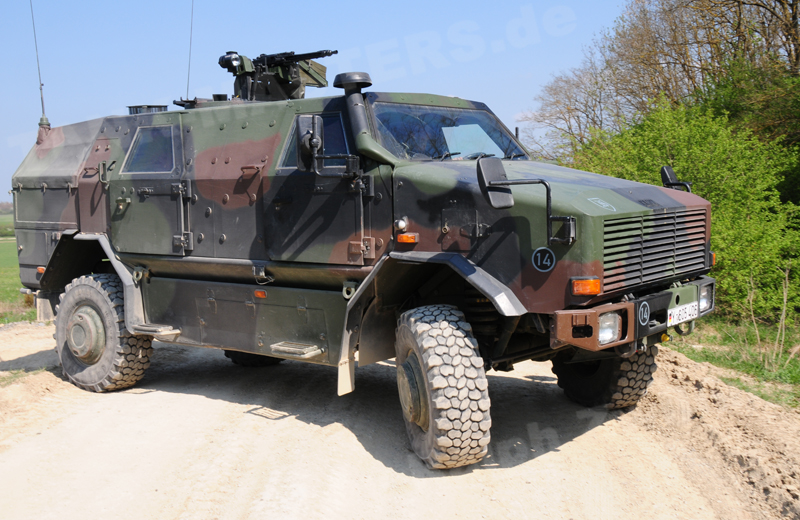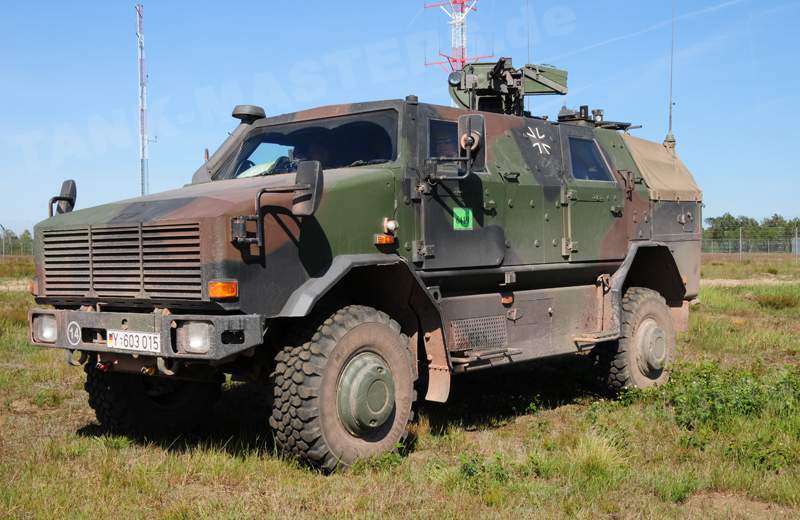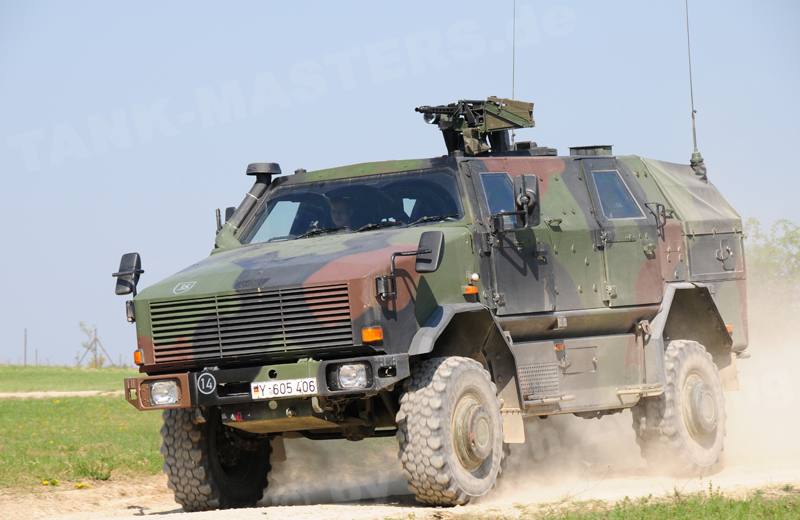 ATF Dingo 2 GE A1 Patrouillen- und Sicherungsfahrzeug
In 2002 it was certain that the Bundeswehr would require a larger number of ATF Dingo 1s and that further production lots were necessary. However, Daimler-Benz announced that it would end production of the UNIMOG U1550L chassis. The Bundeswehr now had to decide whether to make a final order based on its existing chassis, or to take a step oriented towards the future and buy the more efficient UNIMOG U5000 chassis. For the latter reason, in 2002 and in parallel to delivery of the ATF Dingo 1, KMW developed the next vehicle model based on the UNIMOG U5000 chassis. After intensive trials, the Bundeswehr initially procured 52 ATF Dingo 2 GE A1 Patrol and Security Vehicles in 2005 to provide crews with the best protection possible during operations.
The vehicle consists of four main components: the chassis, engine compartment, armoured cell and rear storage compartment. The basis for the vehicle's outstanding cross-country performance is the flexible ladder-type frame with welded crossmembers. It provides the necessary rigidity on improved roads while simultaneously providing the ability to flex off-road. The armoured cell has STANAG 4569 Level 3 ballistic protection and Level 3A mine protection. The mine protection plate, mounted below the armoured cell, consists of multiple layers of special armour that now protects against blasts and explosively formed penetrator (EFP) mines. The 360° Type 1530 weapon station, mounted on the rear of the crew compartment, is used for self-protection. It is armed with a 7.62mm x 51 MG3A1T that is manually aimed but electrically fired from under armour protection.
An unarmoured storage compartment is located directly behind the armoured cell, and it is used to store material for crew operations. In contrast to the Dingo 2 GE A1, the Dingo 2 GE A1.1 variant does not feature the FAUST tactical C2 system.
| | Crew: | 6 |
| --- | --- | --- |
| | Gross Vehicle Weight: | 11.900kg |
| | Military Load Classification: | 14 |
| | Length: | 6.10m |
| | Width: | 2.39m |
| | Height with weapon station: | 3.03m |
| | Ground Clearance: | 0.49m |
| | Grade: | 00 |
| | Slope: | 00 |
Download PDF file with sample photos
Publication about the ATF Dingo 2
Yearbook – Armoured Vehicles of the Modern German Army 2018
Yearbook – Armoured Vehicles of the Modern German Army 2019
Yearbook – Armoured Vehicles of the Modern German Army 2020
If you are interested in publishing or purchasing our photos or reports, please feel free to contact us via the following email address: contact@tank-masters.de