BW – ATF Dingo 2 GE A3.1 LtSprTrp OpInfo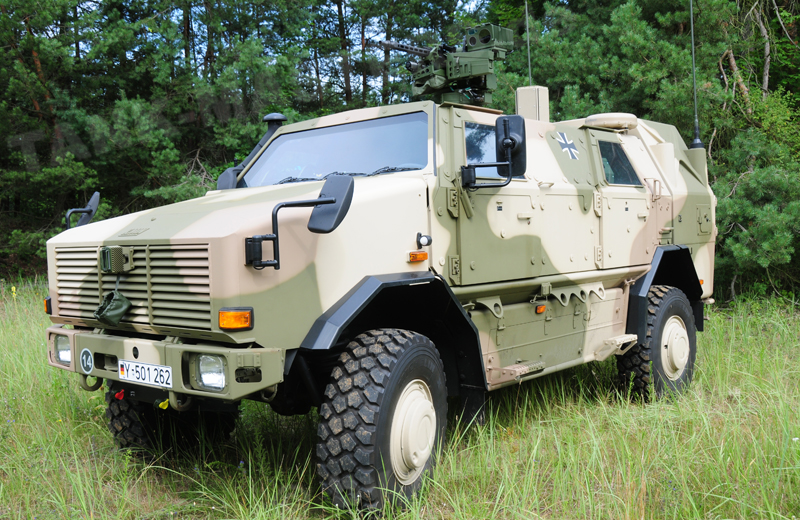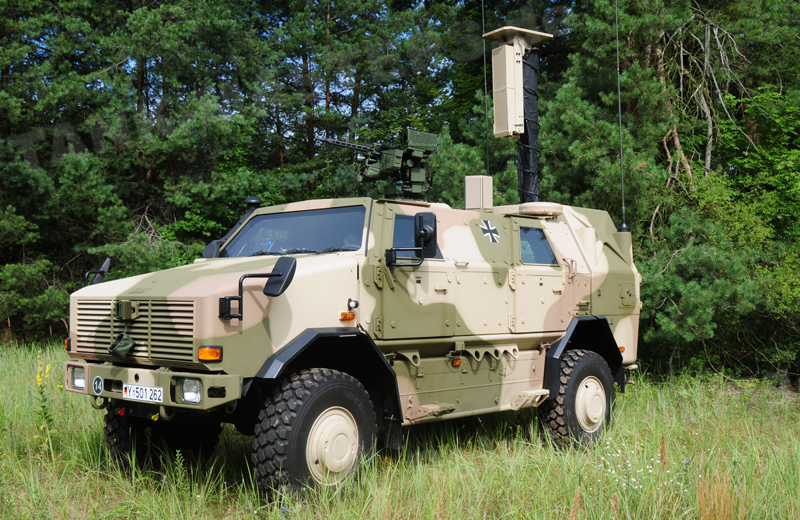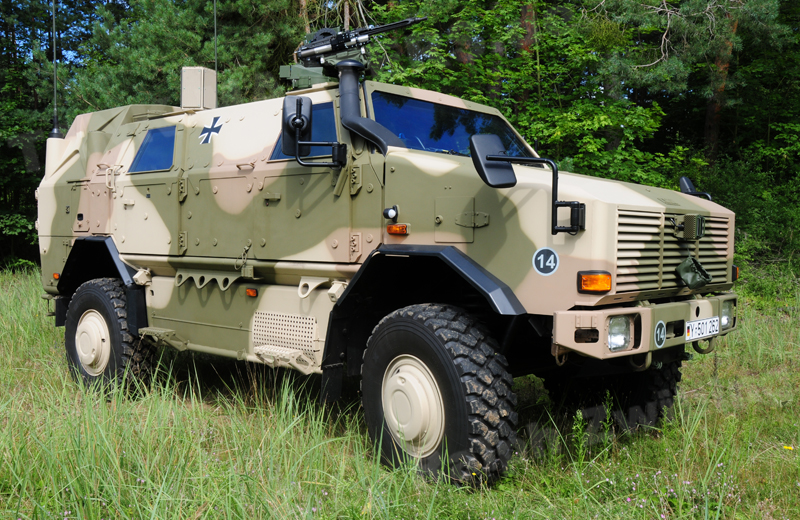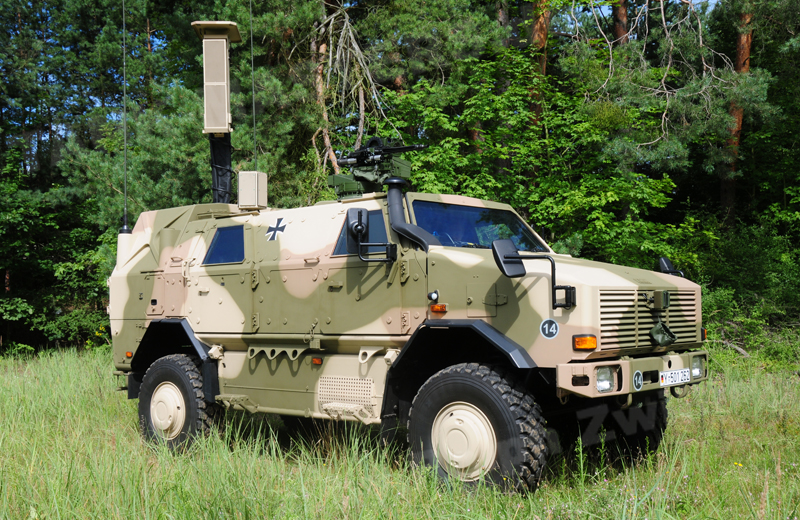 ATF Dingo 2 GE A3.1 Lautsprechertrupp OpInfo
In 2012, the Bundeswehr received 20 long-awaited ATF Dingo 2 GE A3.1 Loudspeaker Section Op-Kom vehicles to replace three ageing ATF Dingo 1 TOG (Tactical Psychological Warfare Section) Vehicles. Externally the new version can be easily recognised by the higher rear compartment with a telescopic mast system, and the IR light on the front of the bonnet.
In contrast to other vehicle versions already described, the ATF Dingo 2 GE A3.1 LtSprTrp OpInfo that provides space for four soldiers has a pure pneumatic dual-circuit disc brake system with fourchannel anti-lock braking system (ABS) and a pneumatic emergency release mechanism for the spring-loaded parking brake. Because of the increased gross vehicle weight of 13.1 tonnes, slightly larger tyres of 365/85 R 20 XZL 152 type are now being used.
The heart of the ATF Dingo 2 GE A3.1 Op-Kom is the very complex Glock Audio 900 loudspeaker system for playing voice messages in close proximity to the vehicle as well as over long distances. It is mounted to the left of the gunner's station in the rear crew compartment of the armoured cell. In the centre of the cargo area is the extendable 330° Geroh mast system for the directional loudspeaker. In the left compartment are mounts for personal equipment and cables as well as the mast control box. With the directional loudspeaker, acoustic irradiation from 100m to 1,000m is possible with a sound level of >90dB in the target area.
| | Crew: | 4 |
| --- | --- | --- |
| | Gross Vehicle Weight: | 13.100kg |
| | Military Load Classification: | 14 |
| | Length: | 6.20m |
| | Width: | 2.30m |
| | Height with weapon station: | 3.29m |
| | Ground Clearance: | 0.49m |
| | Grade: | 00 |
| | Slope: | 00 |
Download PDF file with sample photos
Publication about the ATF Dingo 2
Yearbook – Armoured Vehicles of the Modern German Army 2018
Yearbook – Armoured Vehicles of the Modern German Army 2019
Yearbook – Armoured Vehicles of the Modern German Army 2020
If you are interested in publishing or purchasing our photos or reports, please feel free to contact us via the following email address: contact@tank-masters.de