BW – ATF Dingo 2 GE A3.3 PatSich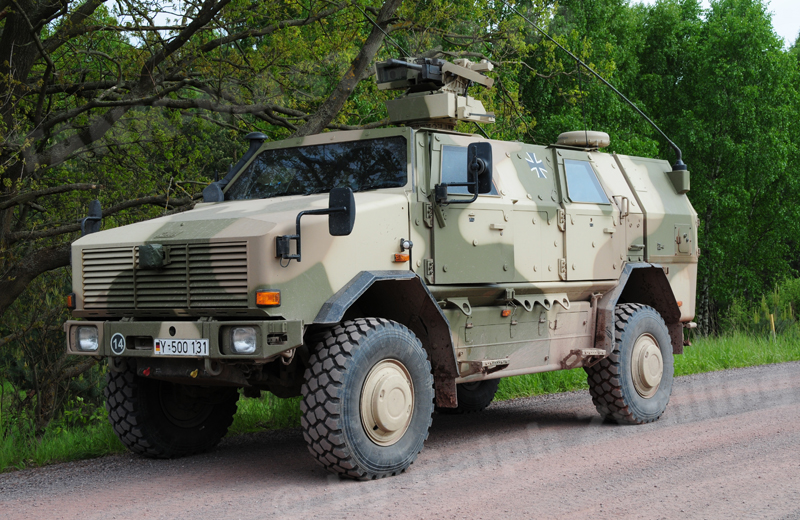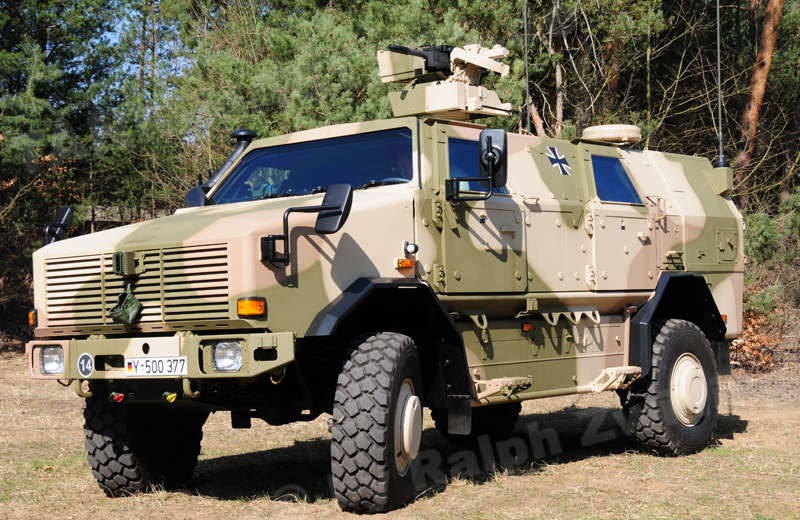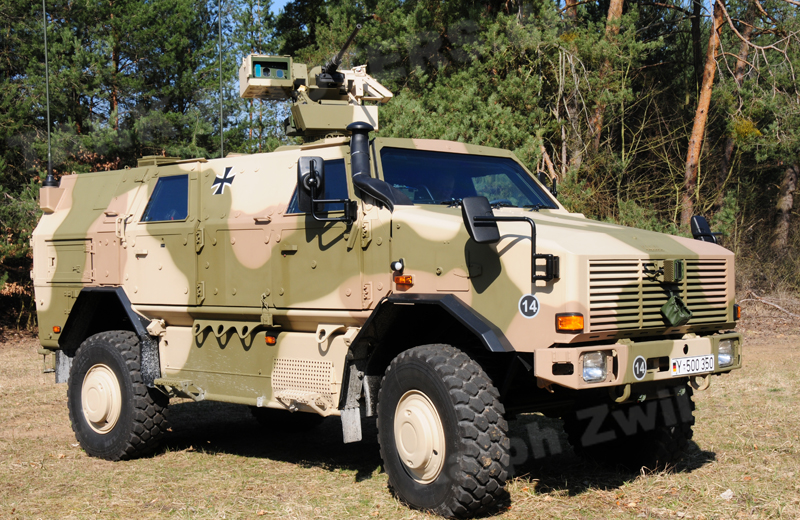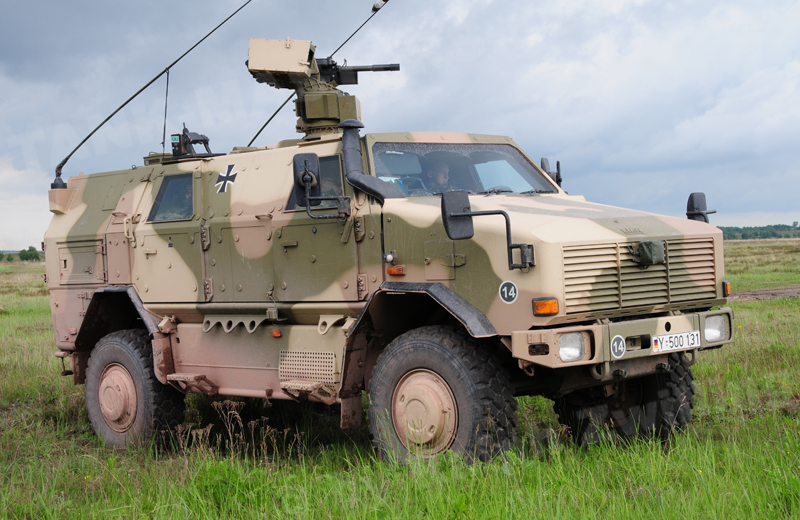 ATF Dingo 2 GE A3.3 Patrouillen- und Sicherungsfahrzeug
On 13 April 2011, KMW received a contract for the production and delivery of a first batch 39 ATF Dingo 2 GE A3.3 Patrol and Security Vehicles with a heavy FLW 200 RCWS. Later on, four more were ordered as the second batch and three vehicles a spart of the third batch.
Externally, the ATF Dingo 2 GE A3.3 Patrol and Security Vehicle can be distinguished by the infrared light on the front of the bonnet, and by the hardtop at the rear of the vehicle that replaced the unarmoured canvas cover employed on other ATF Dingo 2 versions. Because of the increased gross vehicle weight of 13,100kg, larger tyres of 365/85 R 20 XZL 152 dimensions are now used. Due to security reasons, additional mine protection plates were installed below the armoured cell, as well as ballistic windows with increased armour protection. The new satellite antenna of the INMARSAT BGAN Explorer 727 SATCOM system above the rear-left door is very noticeable. The Explorer terminal and a GPS receiver are installed on the right on the interior wall of the armoured cell beside the seat of rifleman 3. The cargo area featuring mounts for a portable fire extinguisher, the firing unit and two Panzerfaust 3 antitank missiles, a water can, two chargers and a port for Infantry Soldier of the Future equipment is separated into two compartments. The rear-view camera has water-cleaning and compressedair drying systems.
The vehicles of the third production batch, designated as Dingo 2 GE A3.3B Patrol and Security Vehicle, can be externally recognized by the 76mm smoke grenade discharger system on the FLW 200 and a climbing assistance attached to the front bumper.
By installing the CG-13 ECM system in 2018, thirteen Dingo 2 GE A3.3 Patrol and Security Vehicles became Dingo 2 GE A3.4 variants. To install the CG-13 behind the passenger seat, the seat of soldier 3 had to be removed. Now the protected interior only provides space for up to five passengers.
| | Crew: | 6 |
| --- | --- | --- |
| | Gross Vehicle Weight: | 13.100kg |
| | Military Load Classification: | 14 |
| | Length: | 6.20m |
| | Width: | 2.39m |
| | Height with weapon station: | 3.3m |
| | Ground Clearance: | 0.49m |
| | Grade: | 00 |
| | Slope: | 00 |
Download PDF file with sample photos
Publication about the ATF Dingo 2
Yearbook – Armoured Vehicles of the Modern German Army 2018
Yearbook – Armoured Vehicles of the Modern German Army 2019
Yearbook – Armoured Vehicles of the Modern German Army 2020
If you are interested in publishing or purchasing our photos or reports, please feel free to contact us via the following email address: contact@tank-masters.de