BW – Schützenpanzer Marder 1A5A1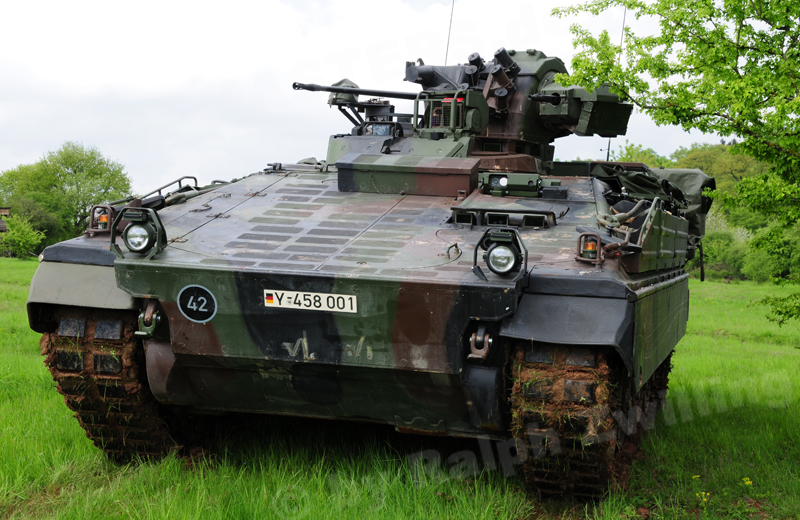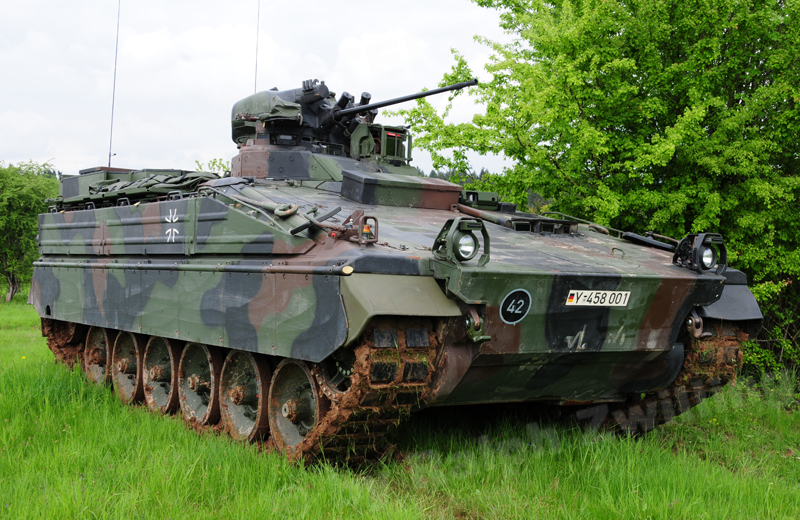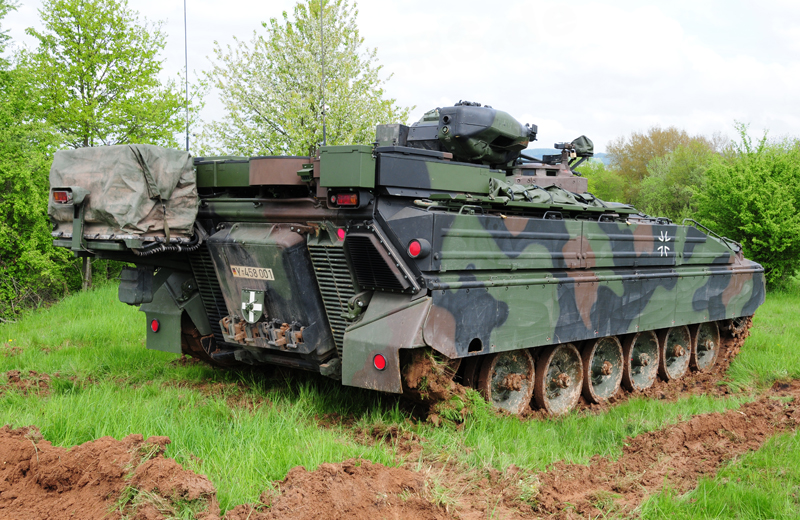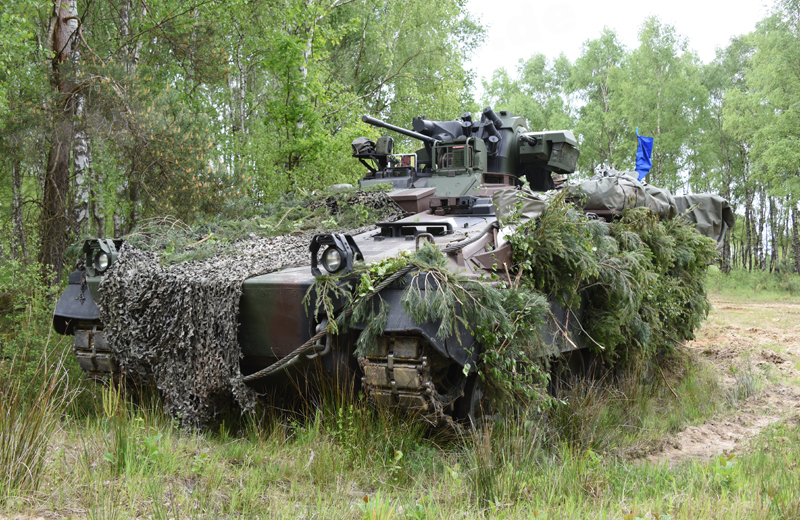 Schützenpanzer Marder 1A5A1
Despite the fact that the Marder 1A5 AIFV proved itself right from the beginning of its Afghanistan deployment, it soon became clear that the vehicle needed an air-conditioning system. Another problem when using the vehicles were remote-controlled IEDs (RCIED). To address operational requirements, the decision was made in October 2009 to fit ten Marder 1A5s with an air-conditioning system and the CG-12 electronic countermeasure (ECM) system under an urgent operational requirement programme. The air-conditioning system mounted on the rear left of the vehicle has a cooling power of 6.5kW and it is able to establish a 18°C difference between outside and internal temperatures. A little bit later, the number of vehicles earmarked for modification was raised from ten to 35. The first modified vehicles were fielded by the German International Security Assistance Force (ISAF) contingent in Afghanistan in December 2010, and they were now designated Marder 1A5A1 AIFVs. In total, 25 of 35 vehicles were sent to Afghanistan while the remainder was used in Germany for training and functioned as a maintenance reserve. On 02 June 2011 one vehicle was destroyed during a deadly IED attack. The driver was killed and two other soldiers were severely wounded.
Due to lessons learned during the ISAF mission, from late 2013 the vehicles were equipped with new stand-off armour around the rear roof hatches, a new storage concept inside the vehicle and on top of the upper hull, a fire suppression system in the fighting compartment, the SPECTUS multispectral driver's sight behind the driver's hatch, and a new squad leader's standing platform. The latter resulted in a reduction in the number of dismounts in the rear fighting compartment from six to three. After the modification, Marder 1A5A1 AIFVs are essentially used as over-heavy weapon carriers and supply vehicles.
On December 12, 2019, the Budget Committee of the German Bundestag approved the extension of the service life of the Marder 1 Armoured Infantry Fighting Vehicle, with new drive trains for the mine-protected Marder 1A5 and 1A5A1 AIFVs being procured at a cost of around 109 million euros. The drivelines consist of new Liebherr 6-cylinder diesel engines of the modified D956 series with 565 kW/768 hp as well as the HSWL 194B hydrodynamic shifting, reversing and steering transmissions manufactured by Renk AG and new final drives. Together with the released components from Marder AIFVs no longer in use, the spare parts supply for the vehicles is thus guaranteed until at least the year 2030. By then the Marder will be replaced by the Puma AIFV. The Bundeswehr plans to reduce the number of Marder 1 AIFVs to 259 by 2022.
| | Crew: | 3+3 |
| --- | --- | --- |
| | Gross Vehicle Weight: | 38,500kg |
| | Military Load Classification: | 42 |
| | Length: | 7.767m |
| | Width: | 3.450m |
| | Height: | 3.015m |
| | Ground Clearance: | 0.428m |
| | Grade: | 60% |
| | Slope: | 30% |
Download PDF file with sample photos
Yearbook – Armoured Vehicles of the Modern German Army 2018
Yearbook – Armoured Vehicles of the Modern German Army 2019
Yearbook – Armoured Vehicles of the Modern German Army 2020
If you are interested in publishing or purchasing our photos or reports, please feel free to contact us via the following email address: contact@tank-masters.de