BW – Schützenpanzer Marder 1A5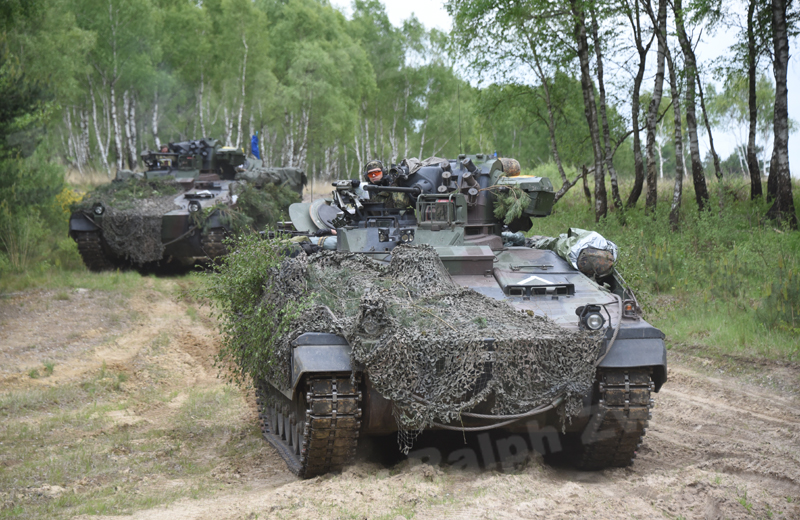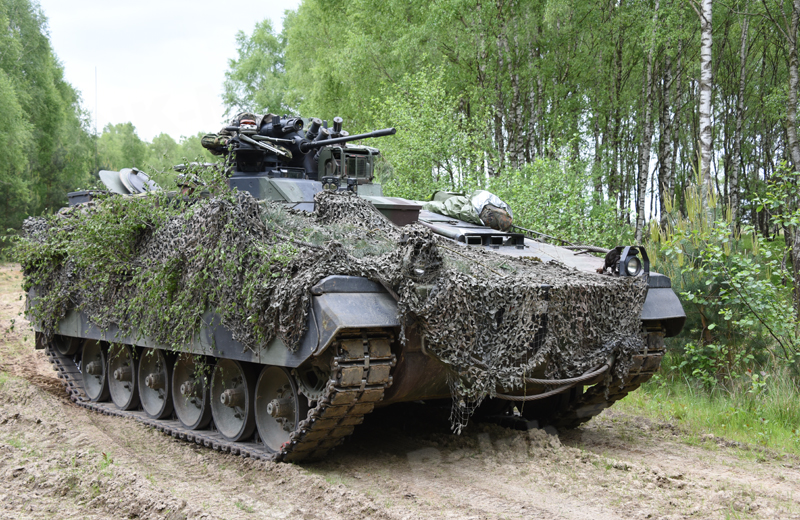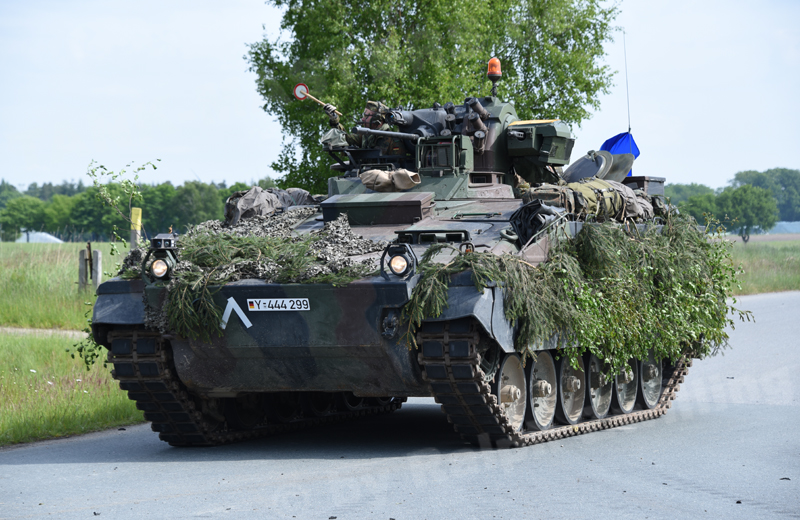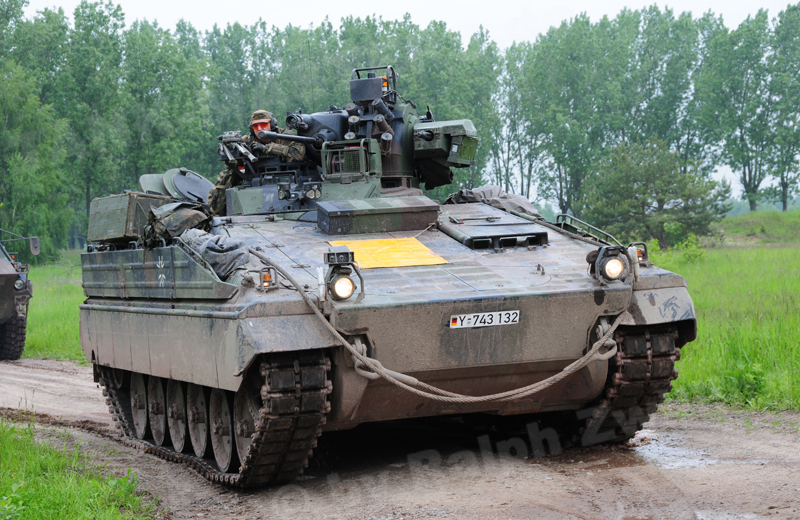 Schützenpanzer Marder 1A5
Bundeswehr operations in the Balkans in the 1990s clearly showed that many of their combat vehicles lacked mine protection tailored to the threat level. Therefore, in July 1996, Thyssen-Henschel received a contract to develop mine protection for the Marder 1A3 that would provide suitable protection from mine strikes and mines with explosive formed projectiles. Under extreme time pressure, the manufacturer's trial, technical trials plus tactical and logistical trials were conducted with two fully equipped vehicles, these being successfully finished in June 2001.
On 31 July 2002 Rheinmetall received a contract to convert 74 Marder 1A3 AIFVs to 1A5 configuration. Only five months later, on 18 December 2002, the first Marder 1A5 was handed over to the 52nd Armoured Infantry Battalion in Kassel. Among the most important modifications was installation of a mine protection belly plate covering the driver's area and the fighting compartment, the fitting of reinforcements to corners of the hull, the installation of a false floor using meander welding technology, and the installation of covers over weld seams. Furthermore, spall liner plates were installed in the interior to reduce the effects of spall. The frame with seats was now decoupled from the floor, and the seats fitted with safety belts and footrests. Also, the storage concept was completely reworked in relation to the mine protection. From the exterior the Marder 1A5 can be easily distinguished from the Marder 1A3 by three new storage boxes on the upper hull, and the side skirts with horizontal edge made of rolled homogenous-steel armour.
On 16 April 2018, the 9th Armour Demonstration Brigade in Munster was the first Bundeswehr unit to receive permission to use the new MELLS anti-tank guided missile (ATGM) with their Marder 1A5 AIFVs. Initially, 35 Marders used as part of the NATO VJTF Land 2019 will be equipped with this system. The Bundeswehr fielded a total of 44 MELLS kits in December 2017.
On December 12, 2019, the Budget Committee of the German Bundestag approved the extension of the service life of the Marder 1 Armoured Infantry Fighting Vehicle, with new drive trains for the mine-protected Marder 1A5 and 1A5A1 AIFVs being procured at a cost of around 109 million euros. The drivelines consist of new Liebherr 6-cylinder diesel engines of the modified D956 series with 565 kW/768 hp as well as the HSWL 194B hydrodynamic shifting, reversing and steering transmissions manufactured by Renk AG and new final drives. Together with the released components from Marder AIFVs no longer in use, the spare parts supply for the vehicles is thus guaranteed until at least the year 2030. By then the Marder will be replaced by the Puma AIFV. The Bundeswehr plans to reduce the number of Marder 1 AIFVs to 259 by 2022.
| | Crew: | 3+6 |
| --- | --- | --- |
| | Gross Vehicle Weight: | 38,500kg |
| | Military Load Classification: | 42 |
| | Length: | 6.880m |
| | Width: | 3.380m |
| | Height: | 3.015m |
| | Ground Clearance: | 0.425m |
| | Grade: | 60% |
| | Slope: | 30% |
Download PDF file with sample photos
Yearbook – Armoured Vehicles of the Modern German Army 2018
Yearbook – Armoured Vehicles of the Modern German Army 2019
Yearbook – Armoured Vehicles of the Modern German Army 2020
If you are interested in publishing or purchasing our photos or reports, please feel free to contact us via the following email address: contact@tank-masters.de