BW – Pionierpanzer 2 Dachs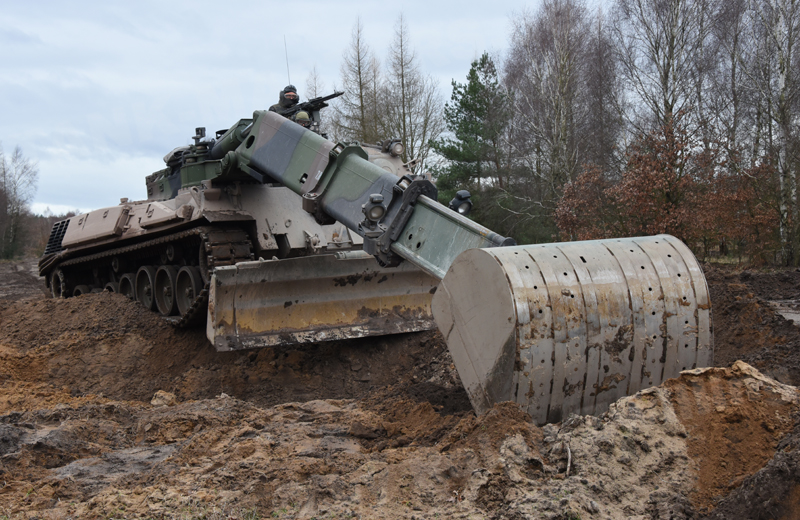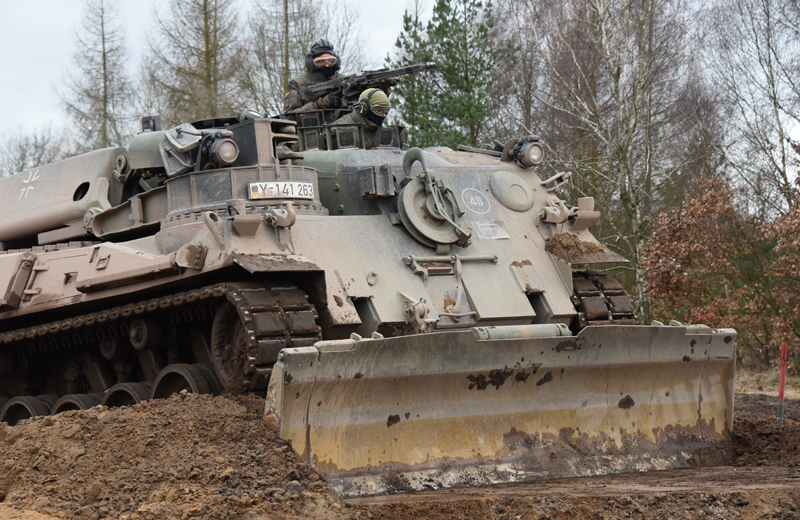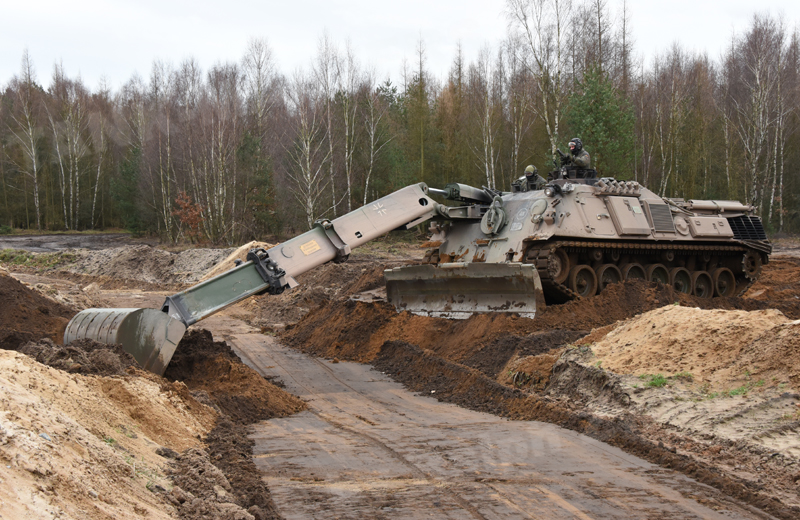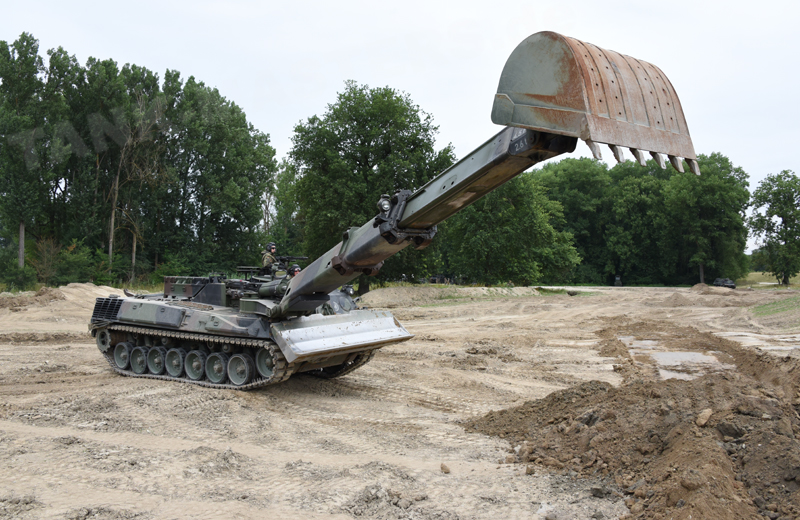 Pionierpanzer 2 Dachs
After the failure of its project to develop an armoured engineer vehicle (Gepanzerte Pioniermaschine – GPM), the Bundeswehr was still looking for a successor for its Armoured Engineer Vehicle 1. From 1981-83, the company Maschinenbau Kiel GmbH (MaK) built its first two prototypes and conducted factory tests in 1984. The third prototype followed in 1987 after a contract was awarded by the Bundeswehr.
The first series vehicle of the Dachs Armoured Engineer Vehicle 2 was handed over on 13 April 1989. The 140 vehicles were created by modifying 104 Armoured Recovery Vehicle 2s and the 36 Armoured Engineer Vehicle 1s already available. In contrast to its predecessor, the Dachs Armoured Engineer Vehicle 2 now featured a 195°-pivoting telescopic arm with a backhoe instead of the crane jib and augers. The excavator performance is 140m³/h, while the dozer performance is 270m³/h. Operations in water up to a depth of 800mm is possible without preparation. With a deep-wading kit, operations can be conducted in waters up to a depth of 2.25m. If the situation requires, with an air duct and special precautions, even operations in waters up to a depth of 4m can be conducted. The tasks of the vehicle include the recovery of damaged vehicles, the creation of entrances and exits to river-crossing sites or steep and muddy shore areas. Furthermore, the vehicle can make riverbeds accessible or remove obstacles and barriers on the battlefield.
Due to the introduction of new equipment, it became necessary to change the stowage concept on the outside of the vehicle as well as in the interior. As part of the new storage concept (Neues Verstaukonzept / NVK) two toolboxes each were attached to the left and right outer side wall and a storage box on the frontal engine compartment cover plate. A first pre-series vehicle was tested in 2005 at the Wehrtechnische Dienststelle 51 in Koblenz. In 2006 and 2007 a first batch of 80 vehicles was converted by the industry. A second batch of 19 vehicles was converted in 2008. According to official information, four Pionierpanzer 2 Dachs were equipped with the command, control, communication and intelligence system Führungs- und Informationssystem des Heeres
With the invitation to submit applications for participation issued on November 25, 2019, the Federal Office for Bundeswehr Equipment, Information Technology and In-Service Support (BAAINBw) opened the competition for the procurement of a total of 44 armoured engineer machines (Gepanzerte Pioniermachinen / GPM) to replace the aged Pionierpanzer 2 Dachs. The Bundeswehr will provide 44 Leopard 2A4 chassis for the GPM. Possible candidates for the GPM include the Kodiak Armoured Engineer Vehicle 3 from Rheinmetall Landsysteme or the Wisent 2 from Flensburger Fahrzeugbau GmbH (FFG).
.
| | Crew: | 3 |
| --- | --- | --- |
| | Gross Vehicle Weight: | 43,000kg |
| | Military Load Classification: | 48 |
| | Length: | 8.92m |
| | Width: | 3.25m |
| | Height: | 2.69m |
| | Ground Clearance: | 0.44m |
| | Grade: | 60% |
| | Slope: | 30% |
Download PDF file with sample photos
Yearbook – Armoured Vehicles of the Modern German Army 2018
Yearbook – Armoured Vehicles of the Modern German Army 2019
Yearbook – Armoured Vehicles of the Modern German Army 2020
If you are interested in publishing or purchasing our photos or reports, please feel free to contact us via the following email address: contact@tank-masters.de