BW – GTK Boxer A2 GrpTrspFzg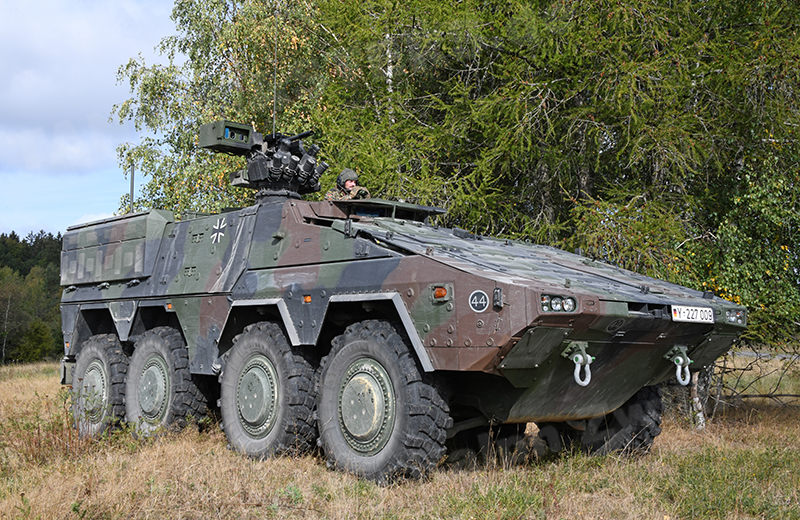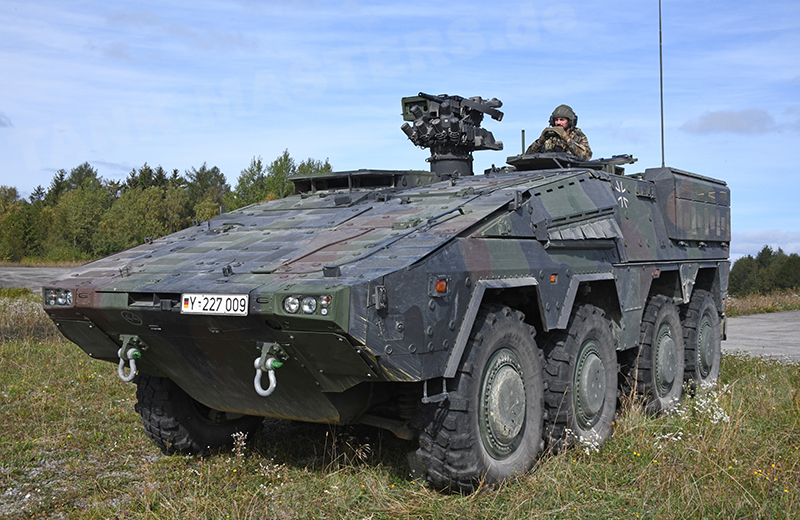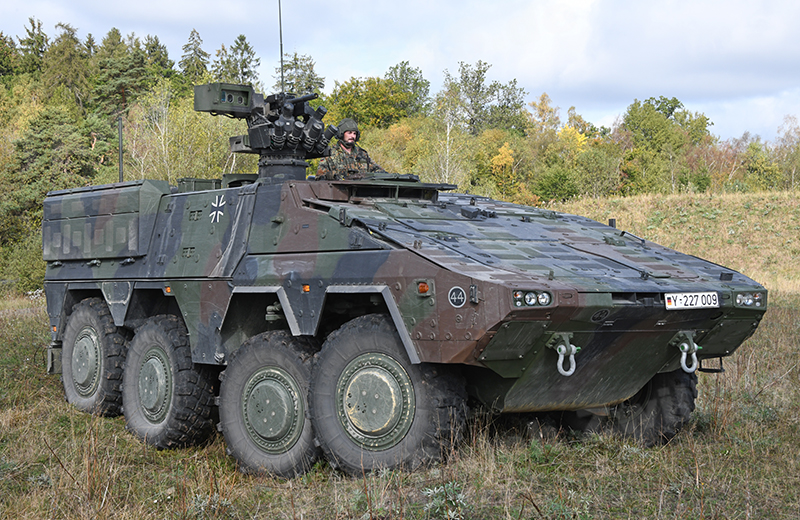 GTK Boxer A2 Gruppentransportfahrzeug
The German Army received the first series production vehicle of the Multirole Armoured Wheeled Vehicle (GTK) Boxer on 23 September 2009. The Boxer takes over missions previously performed by ageing M113 and Transportpanzer 1 Fuchs mission kit carriers. One of the main advantages of the Boxer family is the separation of the vehicle into driving and mission modules. This reduces production costs, improves tactical flexibility and simplifies logistics. Also, the development of future variants is simplified as only the mission module needs to be changed. At the beginning the Bundeswehr ordered 125 APCs that were put into service beginning in 2009. By 2011 the vehicles were also being used in German ISAF operations in Afghanistan. The first GTK Boxer was designated the A0 variant, and it is easily distinguished by the FLW 200 RCWS mounted directly onto the roof of the fighting compartment.
By the summer of 2011, delivery began of combat capability-improved vehicles that are designated GTK Boxer A1 APCs. Features include, for example, the FLW 200 installed on a 300mm platform in order to reduce the dead angle in which the RCWS cannot engage targets. Furthermore, this variant is equipped with the CG-12 ECM system. Vehicles operating in Afghanistan also received mine protection plates on the lower hull and in the wheel housings.
On 18 December 2016, the Bundeswehr ordered an additional 131 GTKs, these being delivered as A2 variants from late 2017. This standard includes the driving module "fit-for" driver visualisation system installation kit, modification of the exhaust gas and cooling airflow, and repositioning of the tow cable and driver's station. The mission module is equipped with a fire suppression system, as well as a second control handle for the FLW 200. The 91st Mechanised Infantry Battalion in Rotenburg an der Wümme received the first production vehicles of the GTK Boxer A2 APC in the first quarter of 2019.
Based on current plans, ten of 131 vehicles in the 2nd production batch will be used as base vehicles for qualified air defence. These should be available for VJTF 2023, which will be led by the 37th Armoured Infantry Brigade "Freistaat Sachsen".
| | Crew: | 3+7 |
| --- | --- | --- |
| | Gross Vehicle Weight: | 36,500kg |
| | Military Load Classification: | 43 |
| | Length: | 8.01m |
| | Width: | 2.99m |
| | Height with RWS: | 3.37m |
| | Ground Clearance: | 0.5m |
| | Grade: | 60% |
| | Slope: | 30% |
Download PDF file with sample photos – Production Vehicle
Download PDF file with sample photos – Prototype
Publication about the GTK Boxer
Publication about the GTK Boxer A0 / A1 / A2
Yearbook – Armoured Vehicles of the Modern German Army 2018
Yearbook – Armoured Vehicles of the Modern German Army 2019
Yearbook – Armoured Vehicles of the Modern German Army 2020
If you are interested in publishing or purchasing our photos or reports, please feel free to contact us via the following email address: contact@tank-masters.de