BW – Enok 5.4 Kampfmittelbeseitigung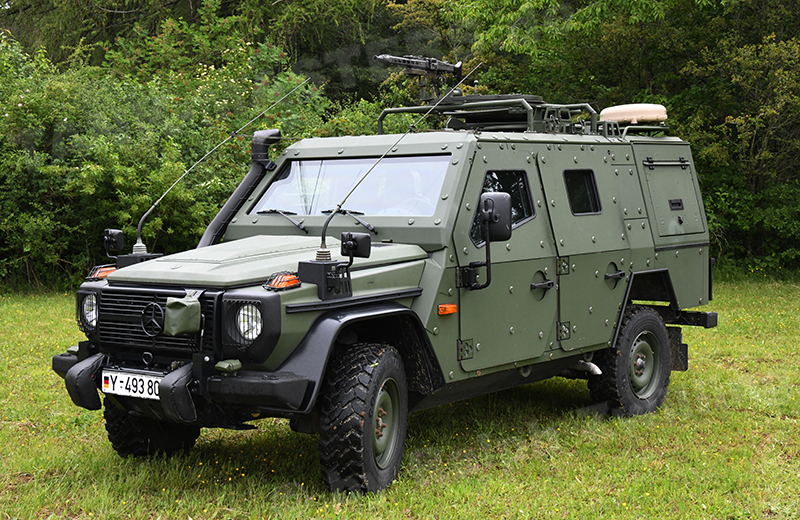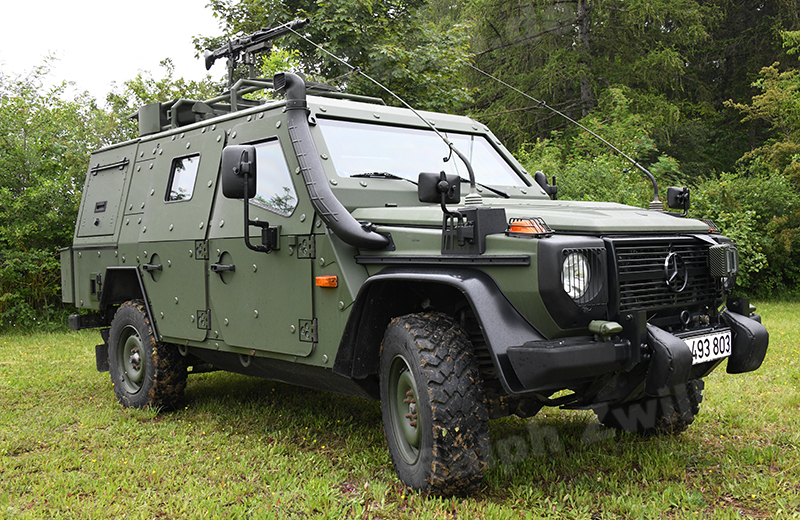 Enok 5.4 Kampfmittelbeseitigung
There are currently ten Enok 5.4 EOD (Explosive Ordnance Disposal) Team Vehicles with four doors, protected crew compartment and unprotected storage compartment with hardtop in service with the Bundeswehr. The full-steel crew compartment of the vehicle features armour plating and insulation on the outside, as well as a spall liner inside the crew compartment that should reduce the risk of injury to the crew created by shrapnel. . The vehicle has two independent levers on the centre console. These allows the doors to be locked and unlocked from the inside in case of danger. By activating the locking mechanism, the doors are looked with the door frame.
Like the Enok 5.4 Patrol Vehicle, the EOD Team Vehicle also features a ring mount on the roof of the protected crew compartment to install a 7.62mm x 51 MG3 machine gun. Inside the unprotected storage compartment there are various drawers to store EOD mission-specific equipment. For example, it includes a PackBot 510 manipulator vehicle, the hook and line kit, detonators and explosives, the detection kit MH 5, the detectors VMR-3 and CEIA, the disrupter RE 70 as well as a Med-Eng EOD 9 bomb disposal suit. In the area behind the driver's seat there is storage plus an additional storage box for safe storage of equipment. Besides the SEM 80/90 VHF radio system in the rear-right area of the protected crew compartment and the INMARSAT BGAN Explorer 727 SATCOM system, the vehicle also features the FüInfoSysH command, control, communications and intelligence system. The workstation computer is a Rocky III notebook mounted between the two seats with a display and keyboard. When the notebook is stored, it is operated by a touchscreen display in front of the passenger seat.
In contrast to the Wolf with SSA special armour protection, the Enok features a higher chassis with longer spring deflection for better offroad mobility. The chassis consists of rigid axles with differential locks, as well as coil springs and gas shock absorbers.
| | Crew: | 2 |
| --- | --- | --- |
| | Gross Vehicle Weight: | 5,400kg |
| | Military Load Classification: | 00 |
| | Length: | 4.84m |
| | Width: | 1.96m |
| | Height: | 2.55m |
| | Ground Clearance: | 0.22m |
| | Grade: | 60% |
| | Slope: | 30% |
Download PDF file with sample photos
Yearbook – Armoured Vehicles of the Modern German Army 2018
Yearbook – Armoured Vehicles of the Modern German Army 2019
Yearbook – Armoured Vehicles of the Modern German Army 2020
If you are interested in publishing or purchasing our photos or reports, please feel free to contact us via the following email address: contact@tank-masters.de