BW – Aufklärungsfahrzeug Wiesel 1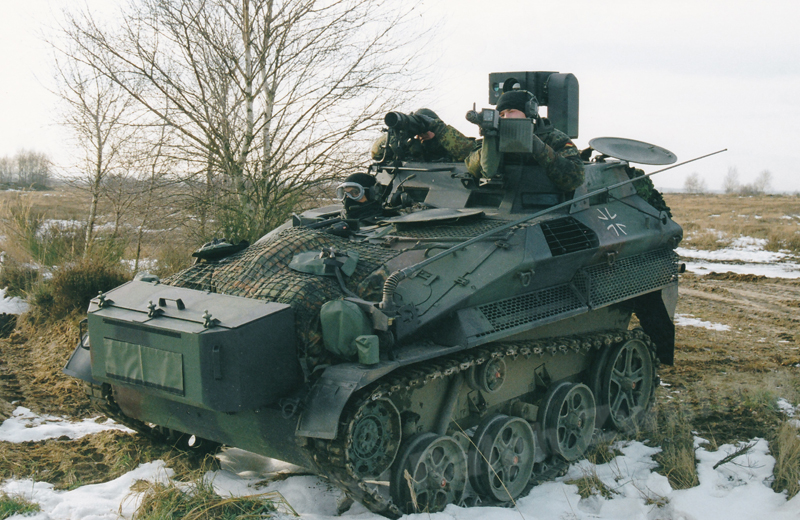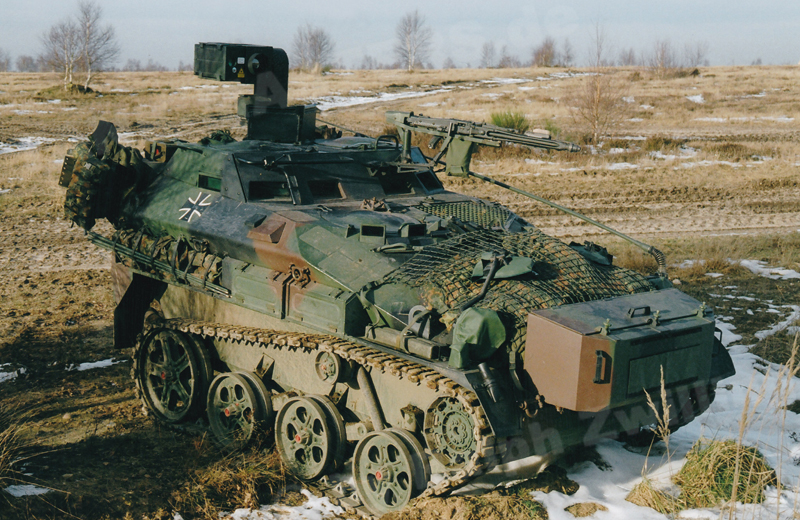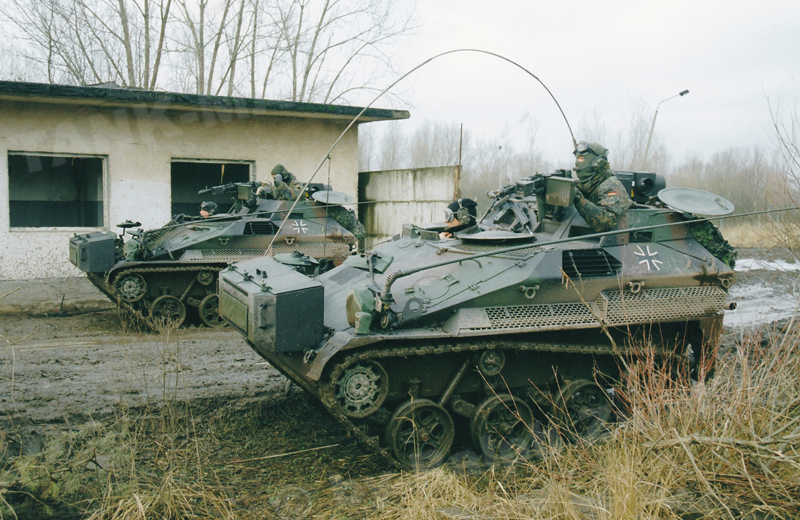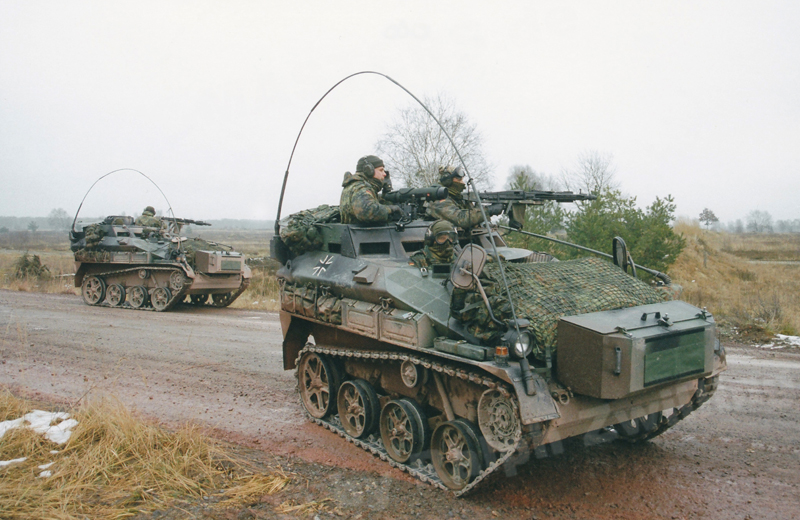 Aufklärungsfahrzeug Wiesel 1
After the Bundeswehr procured a pre-series production example of the Wiesel 1 Reconnaissance Vehicle for test purposes in July 2001, from January to March 2005 a total of 16 series production vehicles were delivered.
Wiesel 1 Reconnaissance Vehicles were built based on already existing Wiesel 1 TOW hulls. For ergonomic reasons the roof of the rear fighting compartment was raised by several centimetres, an obvious distinctive feature. To achieve this, comprehensive modification work and structural changes had to be done. As part of the conversion work, the weapon system of the Wiesel 1 TOW was totally removed, the roof of the rear fighting compartment raised, the crew seats were ergonomically redesigned, and a comprehensive surveillance and communications equipment suite was fitted. The workstations of the vehicle commander and scout are situated side by side.
The core of the Wiesel 1 Reconnaissance Vehicle is the autonomous AOZ 2000 optronic sight unit observation system. The AOZ 2000 is mounted on a base that can be elevated, rotated and tilted. The sensor suite of the AOZ 2000 includes the HALEM 2 laser rangefinder, OPHELIOS thermal-imaging system and CCD day-sight camera. The sight system control unit incorporates a screen with magnifying glass. During missions the vehicle commander usually employs the sensors of the AOZ 2000 to observe the battlefield. The sensor head can be raised to a height of 2.2m above the ground. The scout and driver support the commander in his work. Communication equipment consists of SEM 70, SEM 80/90 and SEM 52 SL VHF radios plus HRM 7000 and HR 7400 HF radios. For self-protection the crew has their 5.56mm x 45 G36 assault rifles, a 40mm grenade launcher and a pivot-mounted 7.62mm x 51 MG3 that is operated by the scout.
On 06 November 6 2019, the budget committee of the German Bundestag approved around 73 million euros for the service life extension (Nutzungsdauerverlängerung / NDV) of 196 Wiesel 1s in order to continue using them until at least 2030. A few days later, on 19 November 2019, the company Flensburger Fahrzeugbau GmbH (FFG) was awarded a contract by the BAAINBw for the implementation of measures to extend the service life of the Wiesel 1 until 2022. As part of the NDV, 16 Wiesel 1 Reconnaissance Vehicles for example will receive an improved protection against ballistic and blast threats as well as a chassis adjustment. Among other things, the vehicles are to be equipped with a rubber-band track, a revised damper system, a rear-view camera system and mine protection. A further component of the NDV is the installation of the light and compact electro-optical fire control and observation system EOPTRIS LR from Telefunken Racoms with a cooled thermal imaging camera, a CMOS daylight channel and a laser rangefinder instead of the AOZ 2000 previously used.
| | Crew: | 3 |
| --- | --- | --- |
| | Gross Vehicle Weight: | 3,300kg |
| | Military Load Classification: | 00 |
| | Length: | 3.55m |
| | Width: | 1.82m |
| | Height: | 1.84m |
| | Ground Clearance: | 0.30m |
| | Grade: | 60% |
| | Slope: | 30% |
Download PDF file with sample photos
Publication about the Wiesel 1 Armored Weapon Carrier
Yearbook – Armoured Vehicles of the Modern German Army 2018
Yearbook – Armoured Vehicles of the Modern German Army 2019
Yearbook – Armoured Vehicles of the Modern German Army 2020
If you are interested in publishing or purchasing our photos or reports, please feel free to contact us via the following email address: contact@tank-masters.de