BW – gepBrLSys Leguan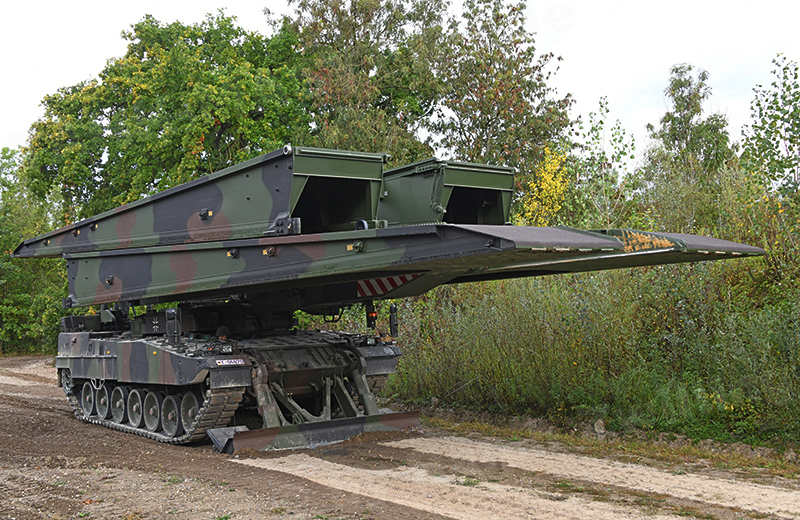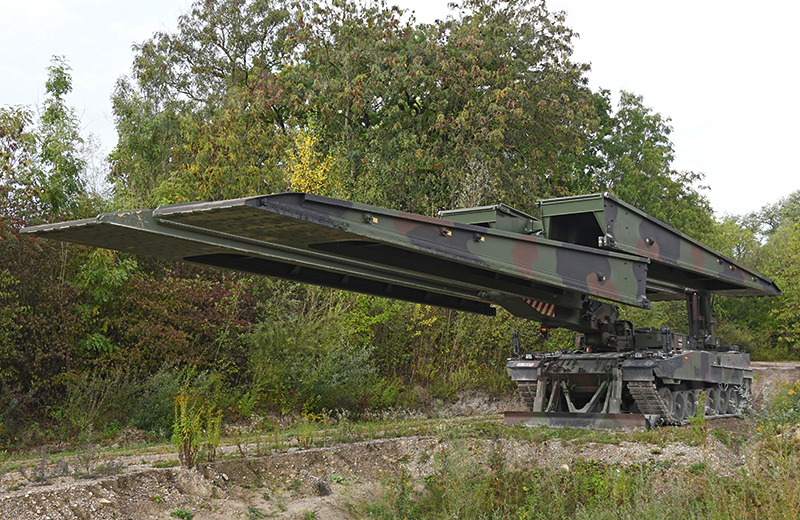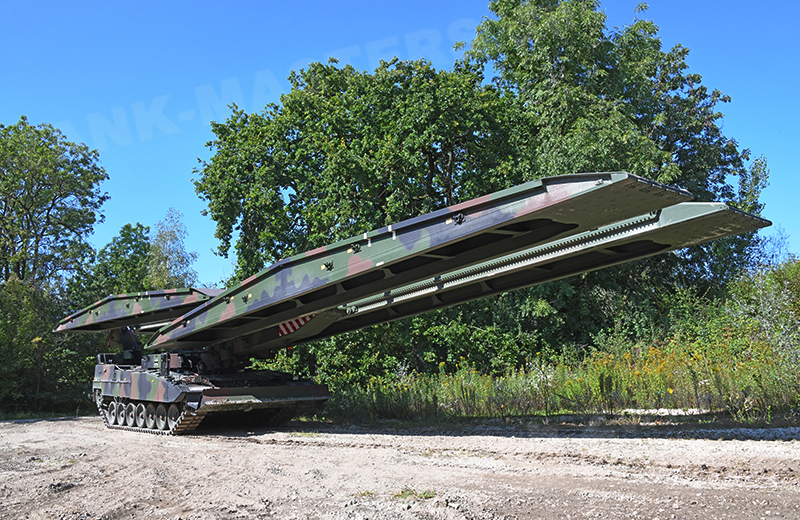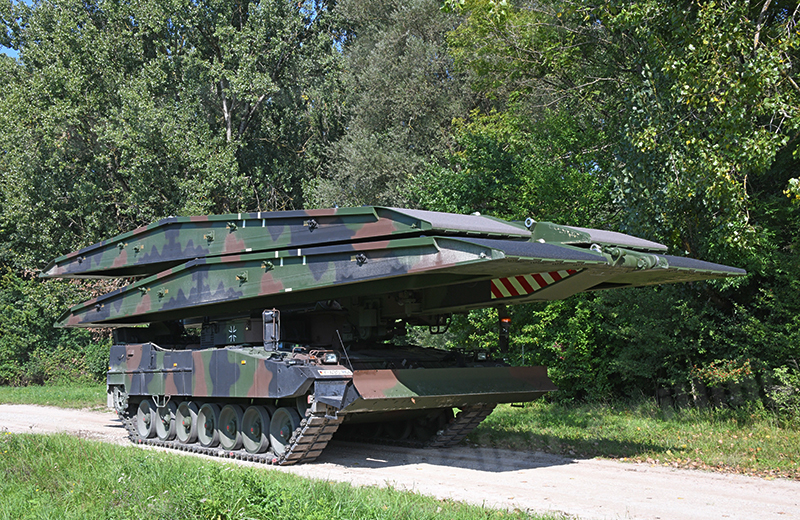 Gepanzertes Brückenlegesystem Leguan
Parallel to trials with the Panzerschnellbrücke 2 Armoured Vehicle-Launched Bridge (AVLB), in 2008 the Bundeswehr tested the Leguan Armoured Bridge-Laying System. The Leguan bridge-laying tank is based on the Leopard 2 chassis and was developed in the mid-1980s. On 27 October 2016, the BAAINBw and KMW signed a contract to deliver seven systems. Besides these Leguan bridge-laying tanks, the contract included seven transport systems consisting of Iveco 6×6 semitrailer tractors with vehicle protection kits, a semitrailer made by the company Istrail, as well as training simulators and additional equipment. The basis for the Leguan is used Leopard 2A4 chassis rebuilt by KMW based on Bundeswehr requirements. The handover of the first system took place on 04 July 2018 with KMW in Munich. Currently the Bundeswehr has a total need of 30 Leguan armoured bridge-laying systems. Therefore, it is very likely that more systems will be procured in the future.
The Leguan brdige-laying tank consists of a cantilever arm and lowerable blade at the front of the vehicle, as well as the foldable rear arm. With the help of the optronic system, laying and retrieving bridges of various lengths can be observed and controlled by day, night and during limited visibility while still under armour and nuclear, biological and chemical (NBC) protection. The system consists of the two display-and-control units beside the commander's and driver's stations, the bridge visual system with a day-sight camera, an uncooled thermal imaging system and a laser rangefinder on the left side of the cantilever arm, two front cameras below the cantilever arm, a camera on the right side of the cantilever arm to control the laying process, and a rear-view camera below the rear arm.
Each of the seven Armoured Bridge-Laying systems includes two 14m bridges plus a 26m bridge made of aluminium alloy for weight reduction reasons. The bridges are compliant with military load classification (MLC) 80. The short bridges are also interoperable and, in combination with the 26m bridge, provide maximum tactical flexibility during operations. To cross larger obstacles, bridges can be overlapped. With two 26m bridges, you can cross obstacles up to a maximum width of 40m. With a 26m bridge and 14m bridge, an obstacle up to 32m wide can be crossed. The laying system is configured so that no new conversion measures need to be done when switching from the 26m to the 14m bridge.
| | Crew: | 2 |
| --- | --- | --- |
| | Gross Vehicle Weight: | 64,500kg |
| | Military Load Classification: | 70 (with Bridge) |
| | Length: | 15.12m |
| | Width: | 4.05m |
| | Height: | 3.97m |
| | Grade: | 40% |
| | Slope: | 30% |

Download PDF file with sample photos
Yearbook – Armoured Vehicles of the Modern German Army 2019
Yearbook – Armoured Vehicles of the Modern German Army 2020
If you are interested in publishing or purchasing our photos or reports, please feel free to contact us via the following email address: contact@tank-masters.de