BW – Transportpanzer 1A8A3A1 Fuchs PzAufklGrp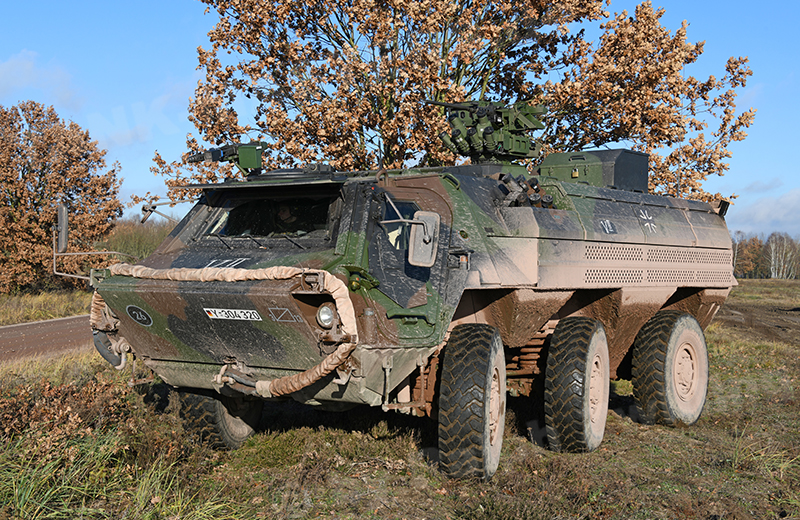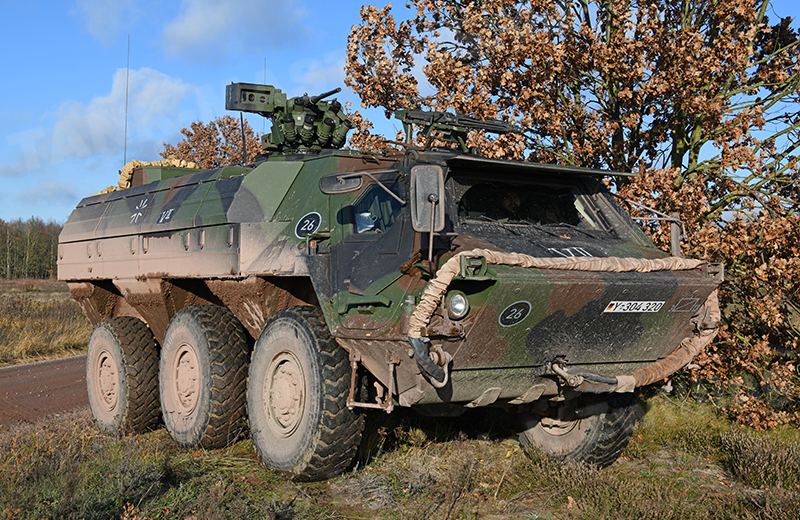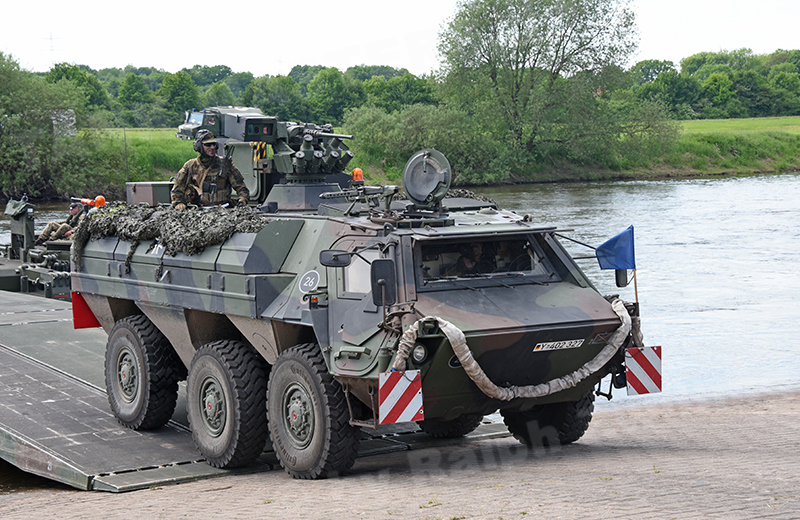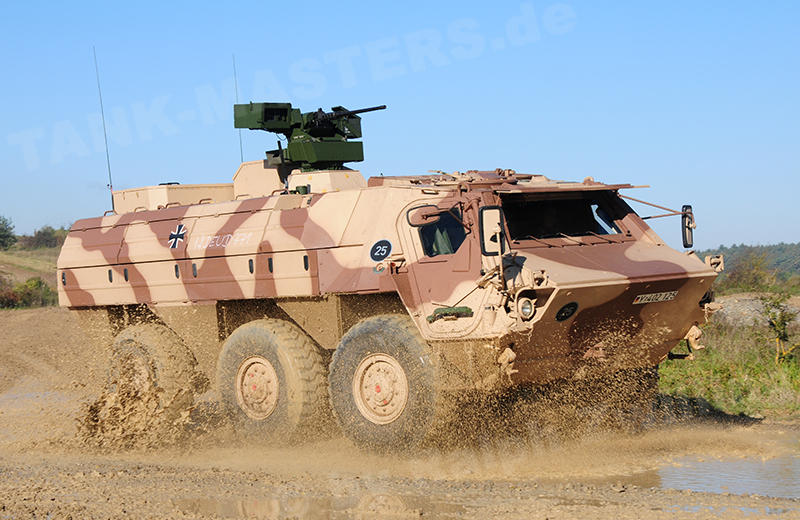 Transportpanzer 1A8A3A1 Fuchs Panzeraufklärungsgruppe FLW 200
The reconnaissance squad mission kit allows transportation of a reconnaissance squad or light infantry squad with all its equipment. By installing the mission kit in a Transportpanzer 1A4 Fuchs Standard mit SEM 80/90, the designation changes to Transportpanzer 1A4A4 Fuchs mit SEM 80/90 und Einbausatz Panzeraufklärungsgruppe. From the outside this version can be distinguished by the mount for the MILAN ATGM system with the security catch, mounting attachment, and height and traverse restriction brackets on the roof of the cargo compartment.
The vehicles are mostly used by mountain infantry or light infantry battalions. For service in international deployments, some Transportpanzer 1A4A4 Fuchs Standard mit SEM 80/90 und Einbausatz Panzeraufklärungsgruppe were upgraded to Transportpanzer 1A7A3 Fuchs Standard zusatzgepanzert mit SEM 80/90 mit Raumkühlanlage und Einbausatz Panzeraufklärungsgruppe, now featuring an add-on armour package and air-conditioning unit. In the meantime all Transportpanzer 1A7A3 were modernised to Transportpanzer 1A8A3 or Transportpanzer 1A8A3A1 standards
Currently, the Bundeswehr fields 53 Transportpanzer 1A8A3A1 Fuchs Standard mit SEM 80/90, mit Zusatzpanzerung, IED-/Minenschutz, Raumkühlanlage, Schutzausstattung CG-12, Einbausatz Panzeraufklärungsgruppe und fernbedienbarer Waffenstation FLW 200 vehicles with ballistic, mine and IED protection. By installing the remote controlled weapon station FLW 200, the designation changed from Transportpanzer 1A8A3 Fuchs to Transportpanzer 1A8A3A1 Fuchs. The FLW 200 can be armed with the 12.7mm x 99 M2 heavy machine gun or the 40mm automatic grenade launcher Granatmaschinenwaffe (GraMaWa) made by Heckler & Koch. Furthermore the vehicle features a smoke grenade discharger system with six launchers on the left side of the hull.
| | Crew: | 2+7 |
| --- | --- | --- |
| | Gross Vehicle Weight: | 23.500kg |
| | Military Load Classification: | 26 |
| | Length: | 7.39m |
| | Width: | 3.09m |
| | Height: | 3.35m |
| | Ground Clearance: | 0.41m |
| | Grade: | 60% |
| | Slope: | 30% |
Download PDF file with sample photos
Yearbook – Armoured Vehicles of the Modern German Army 2018
Yearbook – Armoured Vehicles of the Modern German Army 2019
Yearbook – Armoured Vehicles of the Modern German Army 2020
If you are interested in publishing or purchasing our photos or reports, please feel free to contact us via the following email address: contact@tank-masters.de