BW – Transportpanzer 1A8A7 Fuchs ABC Spürpanzer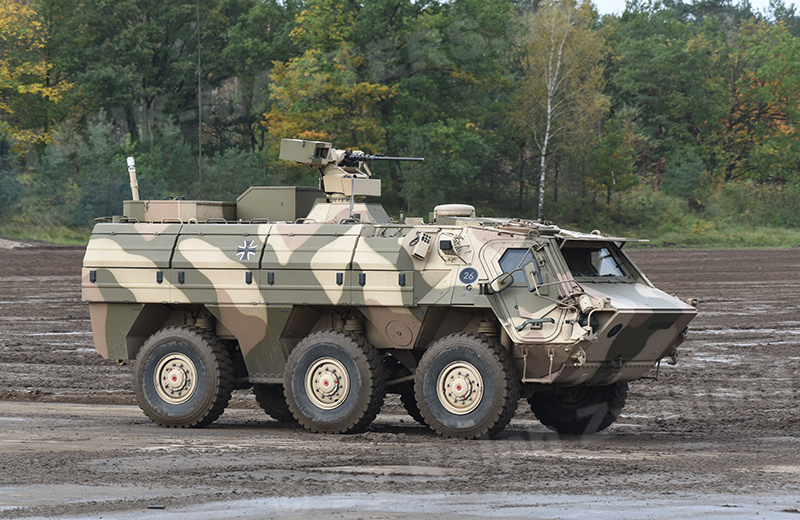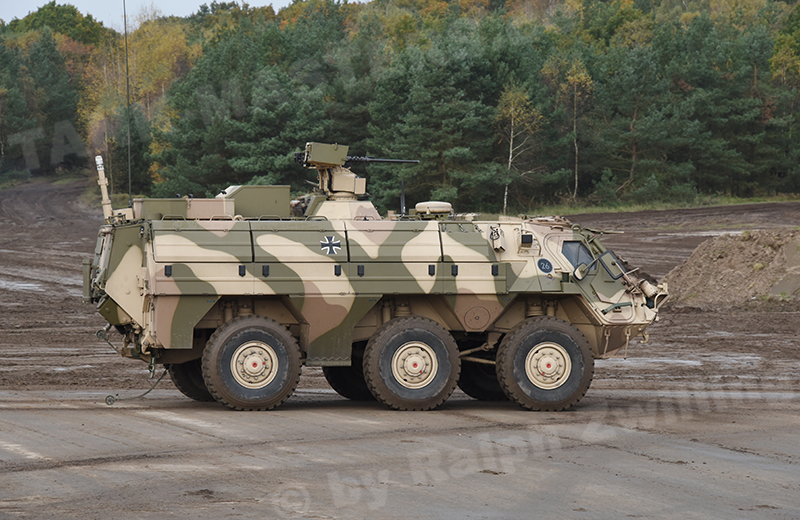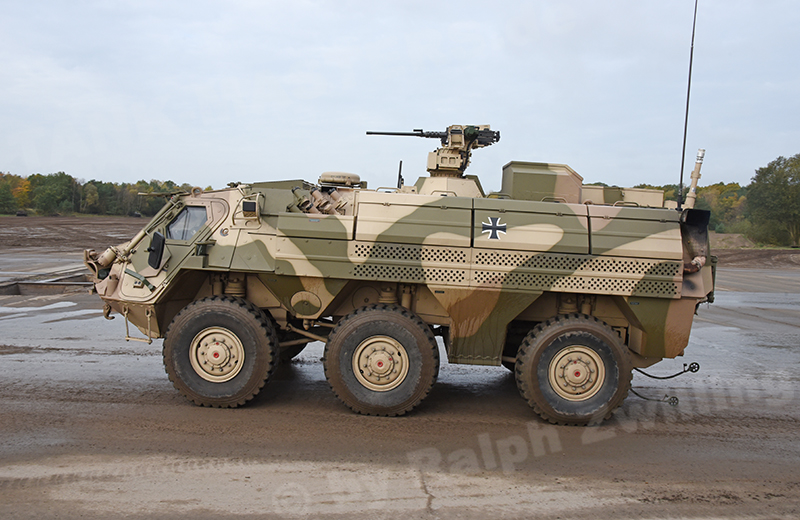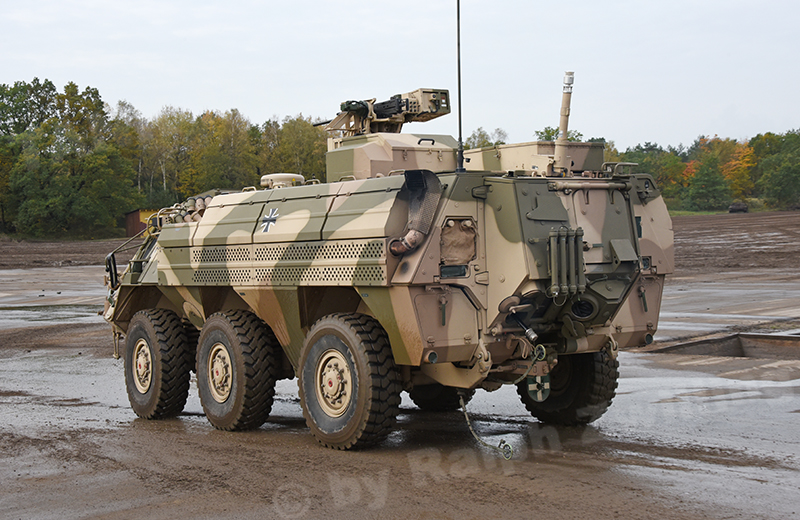 Transportpanzer 1A8A7 ABC Spürpanzer
The TPz 1A6 Fuchs mit SEM 80/90 und EBS ABC-Spürausstattung Reconnaissance Vehicle mainly differs from the Standard variant by the nuclear, biological and chemical (NBC) rear with a two-wheel surface sampler system, a C-agent probe, a round container for spare sampler wheels, and a drawer in which the gripper for samples is stored. The NBC rear is attached to the hull by four clamping flanges and it gives the rear of the cargo compartment a gastight seal. It also features an access and egress door.
With the NBC reconnaissance kit the vehicle conducts NBC reconnaissance missions to quickly check if large areas have been contaminated by NBC weapons. One of the most important systems of the vehicle is the MM 1 mobile mass spectrometer with extendable C-agent probe at the rear of the vehicle. The vehicle, also known as the Spürfuchs, has been in service with the Bundeswehr since 1988. Overall, a total of 114 vehicles were procured but some were passed along to NATO partners. Beginning in 1997, 37 vehicles were put through a combat capability improvement programme. These improved vehicles are designated TPz 1A6A1 Fuchs mit SEM 80/90 und Raumkühlanlage und EBS ABC-Spürausstattung. Major improvements were a new mobile radiation detection system, air-conditioning system, a weather station for gathering meteorological data, a gas-phase chromatograph allowing identification of complex mixes of noxious substances, an enhanced database in which more than 200 substances are registered, a GPS receiver for the vehicle navigation system, and the linking of all sensors to a CPU that features an interface for data communication.
In November 2013 the Bundeswehr received the first TPz 1A8A7 Fuchs Standard mit SEM 80/90, mit Zusatzpanzerung, IED-/Minenschutz, Raumkühlanlage, Schutzausstattung CG-12 und EBS ABC kampfwertgesteigerte ABC-Spürausstattung with improved ballistic and mine protection, as well as an FLW 200 RCWS. In the meantime, five additional vehicles were ordered and these will be delivered in coming years.
| | Crew: | 4 |
| --- | --- | --- |
| | Gross Vehicle Weight: | 23.500kg |
| | Military Load Classification: | 26 |
| | Length: | 7.38m |
| | Width: | 3.09m |
| | Height: | 2.84m |
| | Ground Clearance: | 0.41m |
| | Grade: | 60% |
| | Slope: | 30% |
Download PDF file with sample photos
Yearbook – Armoured Vehicles of the Modern German Army 2018
Yearbook – Armoured Vehicles of the Modern German Army 2019
Yearbook – Armoured Vehicles of the Modern German Army 2020
If you are interested in publishing or purchasing our photos or reports, please feel free to contact us via the following email address: contact@tank-masters.de