BW – Enok 5.4 Hundetransporter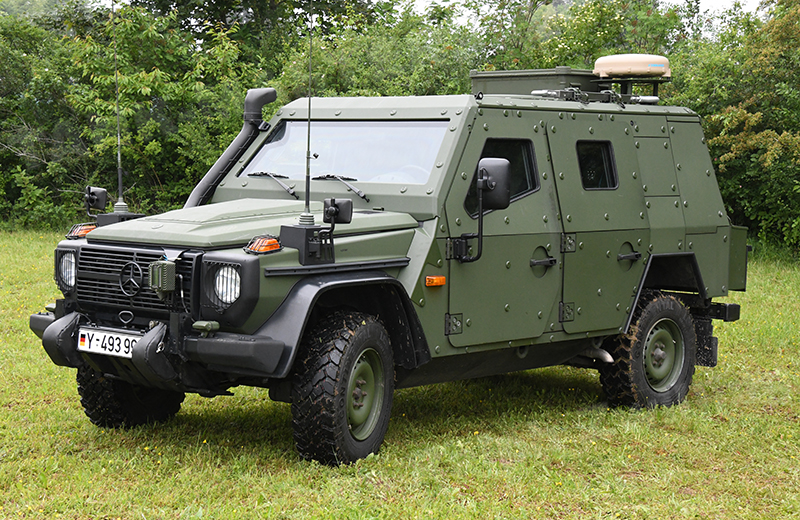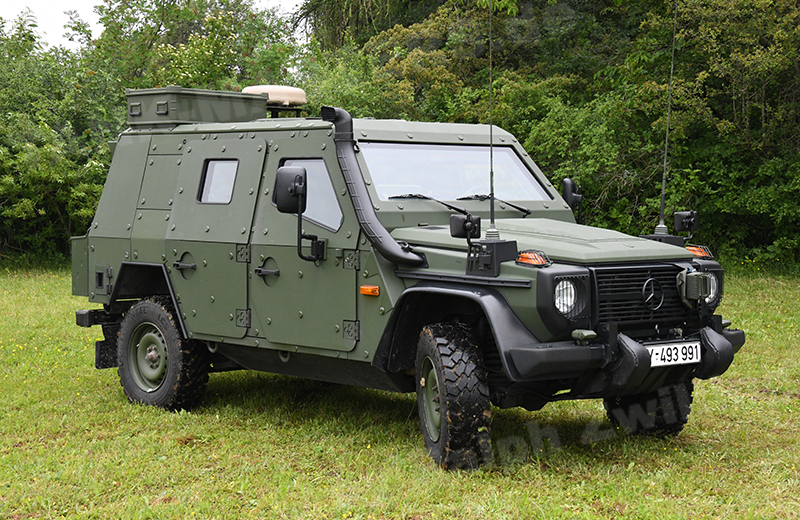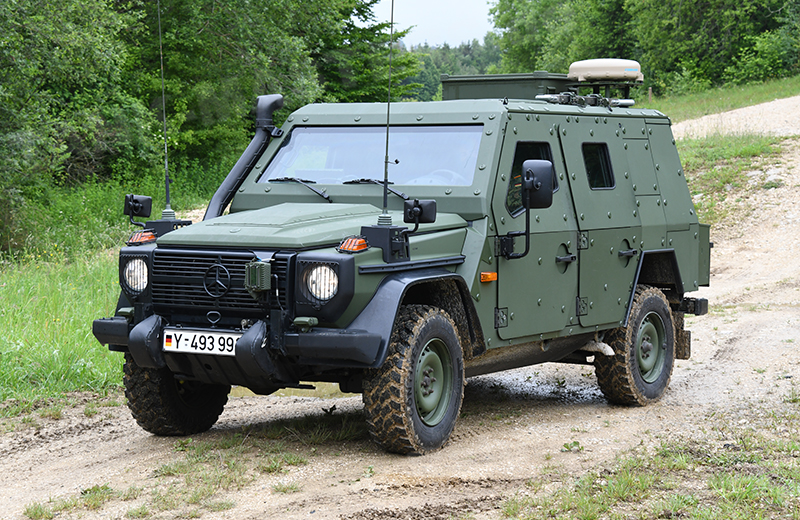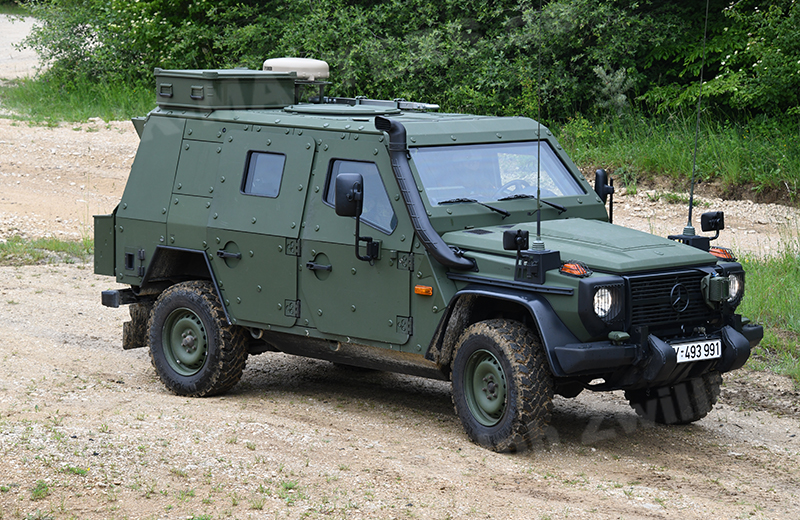 Enok 5.4 Hundetransporter
Currently the Bundeswehr fields five Enok 5.4 Hundetransporter K-9 Team Vehicles with two lockable transport boxes for military service dogs in the protected storage compartment. The transport boxes also feature emergency exits towards the protected crew compartment. Below the boxes is a pull-out drawer. It is used to store extensive equipment for the two military service dogs e.g., collars, muzzles, leads, protection ropes, dog protection boots, harnesses for mine searching missions, dogfood and two 5-litre water bottles for the dogs and 20 litres of water for the two-man crew.
In the storage box, which is commonly transported on the roof of the vehicle, are stored a jumper cable, parts of the onboard equipment and parts of the military service dog equipment like two special harnesses, two food bowls, two agitation harnesses and two DogMedic rucksacks. On the other hand, the storage boxes at the rear of the vehicle hold wheel chains, onboard tool kit, lifting jack and chock blocks.
In the rear left area of the protected crew compartment are the VHF radio system with a SEM 80 and a SEM 90 VHF-radio, the Explosion-Resistant GPS Receiver (ERGR), the two 24 Volt FM batteries of the radio system, the PowerPack as well as the Rocky III Notebook and the KommServerBw. On the right side are a small storage box, a box for the first aid kit, the CG-12 electronic countermeasure system, the two DC/DC converter for the Rocky III notebook and the 15" display, the 24 Volt distribution box as well as a load securing net. The electronic components of the INMARSAT BGAN Explorer 727 SATCOM system is located on the right side of the passengers footwell and the related handset can be found on the right side of the dashboard. The SATCOM antenna is mounted on the rear left roof area. In case of the Enok 5.4 K-9 Team Vehicle, the blade antenna of the CG-12 Electronic Countermeasure System can be found on the rear right of the vehicle.
An auxiliary air-conditioning system cools the interior of the crew compartment depending on the set temperature. It can only be operated when the engine is running. The tow bar is mounted on the roof beside the SATCOM antenna, while a spade is attached to the rear door. Below the storage net in the crew compartment there is a 2kg powder fire extinguisher. On both front doors there are weapon storage bags for a 5.56mm x 45 G36 assault rifle or a 4.6mm x 30 MP7A1 submachine gun.
| | Crew: | 2 |
| --- | --- | --- |
| | Gross Vehicle Weight: | 5,390kg |
| | Military Load Classification: | 00 |
| | Length: | 4.84m |
| | Width: | 1.96m |
| | Height: | 2.31m |
| | Ground Clearance: | 0.22m |
| | Grade: | 60% |
| | Slope: | 30% |
Download PDF file with sample photos
Yearbook – Armoured Vehicles of the Modern German Army 2018
Yearbook – Armoured Vehicles of the Modern German Army 2019
Yearbook – Armoured Vehicles of the Modern German Army 2020
If you are interested in publishing or purchasing our photos or reports, please feel free to contact us via the following email address: contact@tank-masters.de