BW – Transportpanzer 1A8A12 Fuchs BedrTrpFzg RC Sys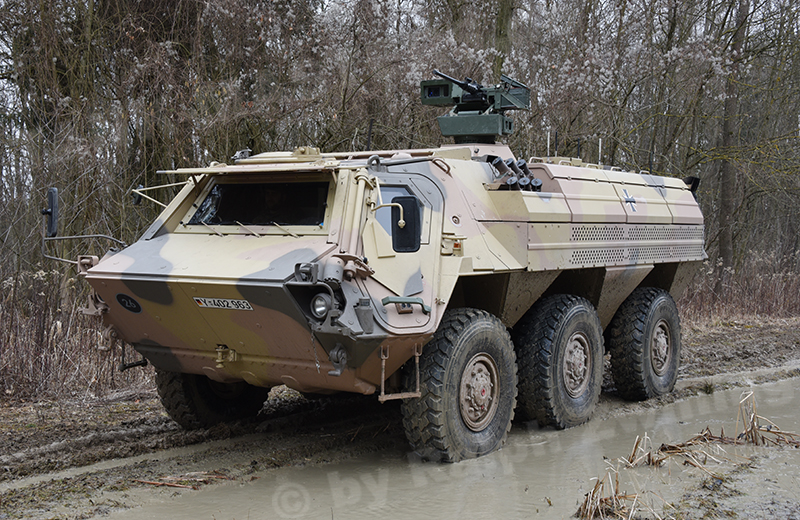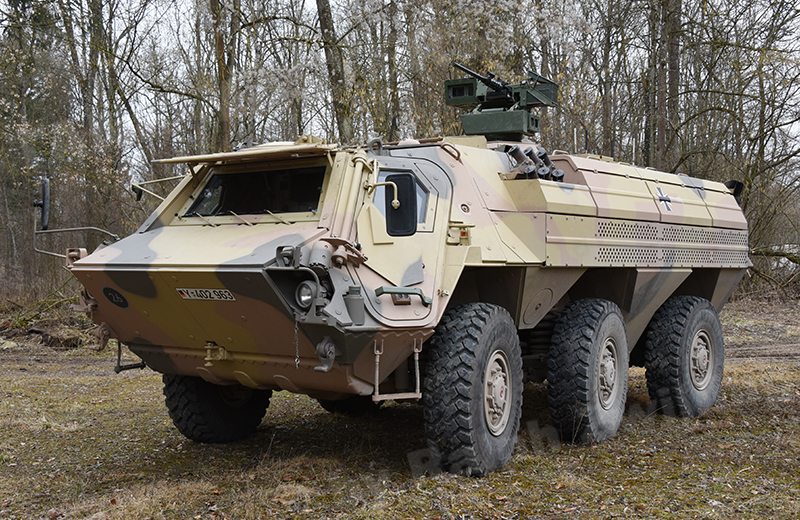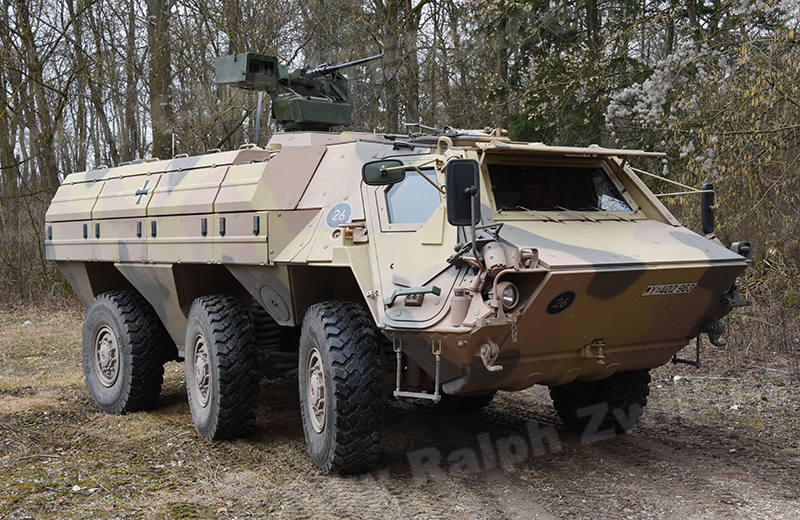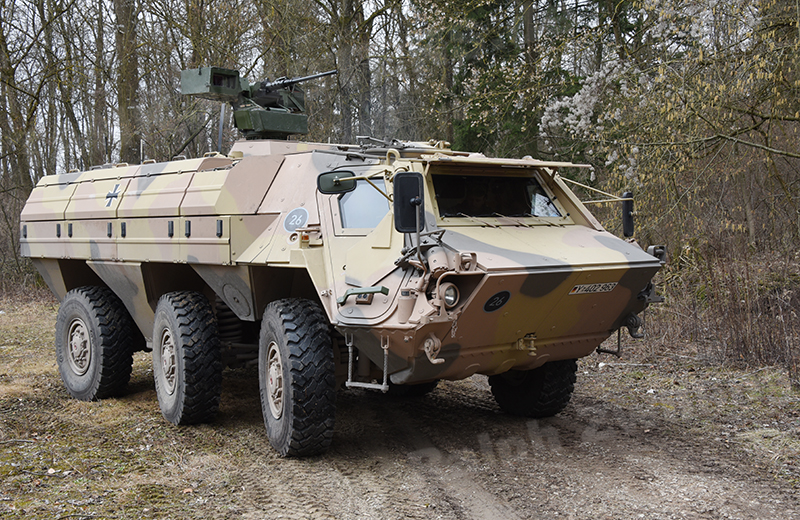 Transportpanzer 1A8A12 Fuchs Bedienertruppfahrzeug Route Clearance System
The operator team of the German Route Clearance Package (GRCP) has a TPz 1A8A12 Fuchs Standard mit SEM 80/90, mit Zusatzpanzerung, IED-/Minenschutz, Raumkühlanlage, Schutzausstattung CG-12 und Einbausatz GRCP operator vehicle with an FLW 200 RCWS. This variant of the TPz 1 Fuchs is based on the TPz 1A8A3A1 Fuchs with a reconnaissance squad vehicle mission kit.
In the vehicle the team has equipment to operate the detector vehicle and manipulator vehicle from under armour protection from a distance of 1,000m with the help of a camera monitor system, and to analyse and archive camera images and sensor findings. The station of the FLW 200 gunner is directly behind the bulkhead of the engine compartment. Within the GRCP the gunner has an additional task as he provides data from the FLW 200 cameras and laser rangefinder to the two operators and evaluator. With the RCWS he is able to observe the surrounding area, possible explosive ordnance or suspicious elements indicating the placement of IEDs. The operator of the manipulator vehicle sits behind the gunner. Both the evaluator and operator of the detector vehicle sit offset face to face. Images from various cameras are transmitted via radio to workstations in the TPz 1A8A12 Fuchs and displayed on the monitor in various modes. Also, measured data from the explosive ordnance detector is transmitted via radio to the vehicle and processed by the computer of the evaluator in the rear compartment. The associated antennas are mounted on the roof of the cargo compartment.
On December 12, 2019, the Budget Committee of the German Bundestag approved the procurement of four manipulator vehicles for around ten million euros and the retrofitting of five TPz 1 1A8A12 GRCP vehicles and four detector vehicles for around 15 million euros. TPz 1A8A3A1 served as the basis for the five additional TPz 1A8A12.
| | Crew: | 2+4 |
| --- | --- | --- |
| | Gross Vehicle Weight: | 23.500kg |
| | Military Load Classification: | 26 |
| | Length: | 7.39m |
| | Width: | 3.09m |
| | Height: | 3.35m |
| | Ground Clearance: | 0.41m |
| | Grade: | 60% |
| | Slope: | 30% |
Download PDF file with sample photos
Yearbook – Armoured Vehicles of the Modern German Army 2018
Yearbook – Armoured Vehicles of the Modern German Army 2019
Yearbook – Armoured Vehicles of the Modern German Army 2020
If you are interested in publishing or purchasing our photos or reports, please feel free to contact us via the following email address: contact@tank-masters.de