BW – ATF Dingo 2 GE A2 PatSich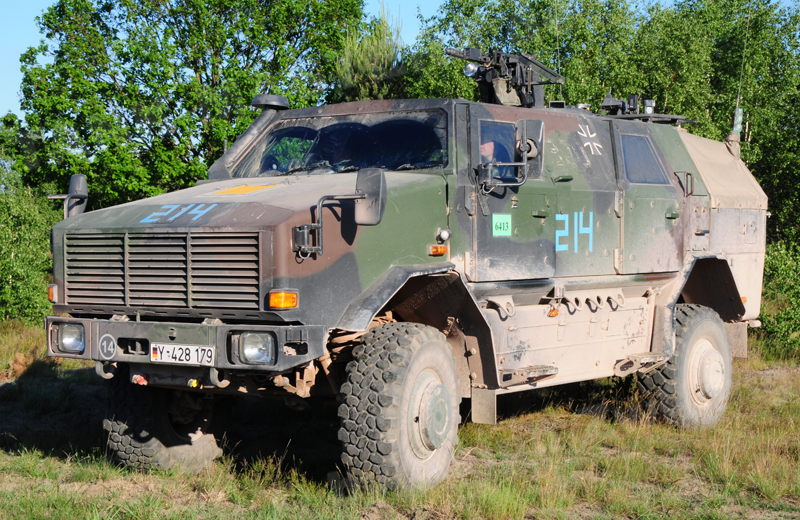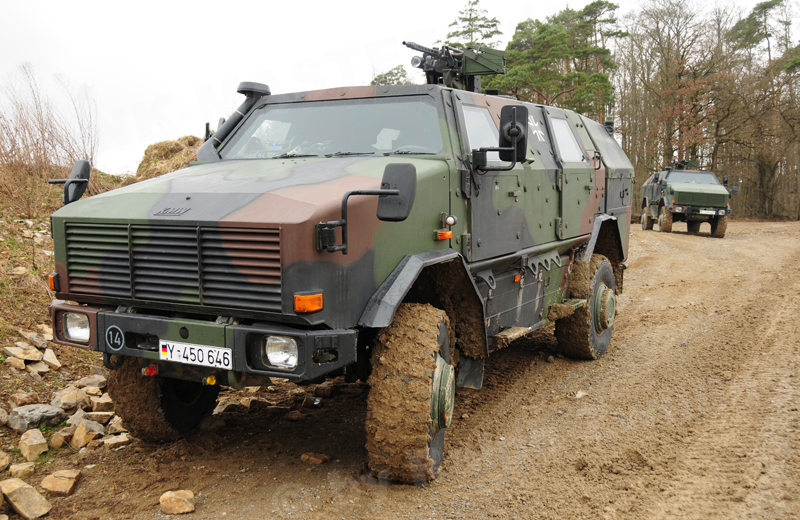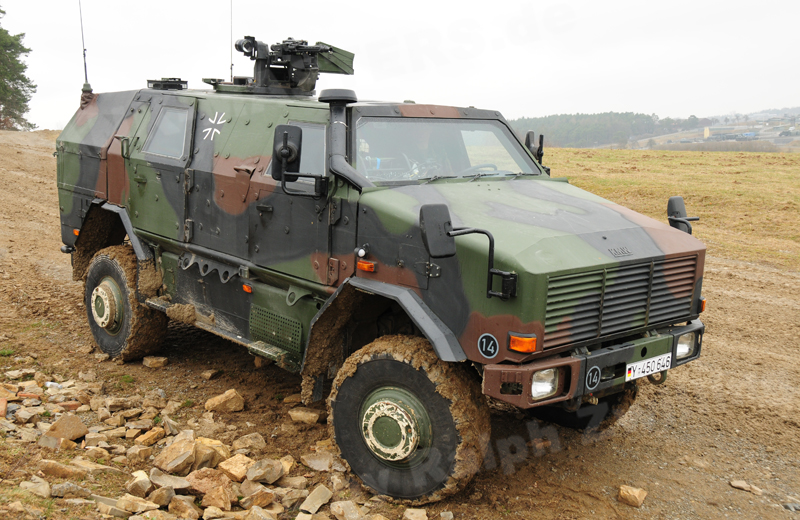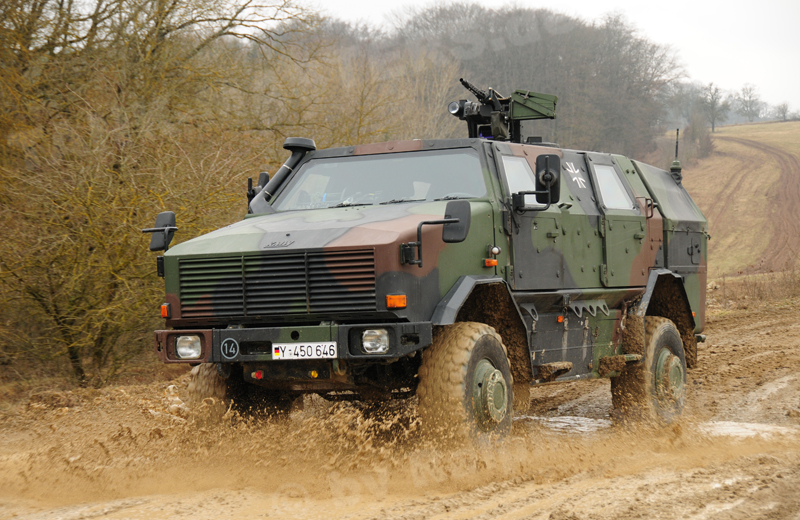 ATF Dingo 2 GE A2 Patrouillen- und Sicherungsfahrzeug
After ordering the first ATF Dingo 2s in 2005, one year later the Bundeswehr procured a second batch of 149 vehicles. These vehicles received the designation ATF Dingo 2 GE A2 Patrol and Security Vehicle. With introduction of this version, the combat vehicle's overall weight increased from its original 11.9 tonnes to 12.5 tonnes. Because of the basic vehicle's weight of 11.14 tonnes, the payload is limited to 1,360kg. Externally, A2 vehicles can be recognised by towing eyes below the armoured cell, reinforced doors, a changed cover for batteries and additional rear-view wing mirrors on the bonnet. The Daimler-Benz OM 924 diesel engine now provides 222hp, which is 4hp more than the preceding A1 version. The fuel tank capacity increased by 20 litres to 260 litres, and a new steering system was used. The original separate ventilation and NBC overpressure systems
were replaced by a combined system from the Israeli company Beth-El Zikhron Yaaqov Industries. The vehicle's communication system was also revised and completed. In addition to the SEM 80/90 VHF radio system and portable SEM 52 S VHF radio, the vehicles now feature the Tetrapol radio system, a SATCOM system for satellite voice and data communication plus the FüInfoSysH command, control, communications and intelligence system. The workstation consists of a Rocky III notebook stored in a docking station in radio rack 1. Also, the storage concept was revised due to lessons learned from operations.
Since the fielding of ATF Dingo 2 GE A2 Patrol and Security Vehicles, a total of 99 vehicles were equipped with various CG electronic countermeasure (ECM) systems.
| | Crew: | 6 |
| --- | --- | --- |
| | Gross Vehicle Weight: | 12.500kg |
| | Military Load Classification: | 14 |
| | Length: | 6.10m |
| | Width: | 2.43m |
| | Height with weapon station: | 3.03m |
| | Ground Clearance: | 0.49m |
| | Grade: | 00 |
| | Slope: | 00 |
Download PDF file with sample photos
Publication about the ATF Dingo 2
Yearbook – Armoured Vehicles of the Modern German Army 2018
Yearbook – Armoured Vehicles of the Modern German Army 2019
Yearbook – Armoured Vehicles of the Modern German Army 2020
If you are interested in publishing or purchasing our photos or reports, please feel free to contact us via the following email address: contact@tank-masters.de