BW – ATF Dingo 2 GE A3 SysInstFw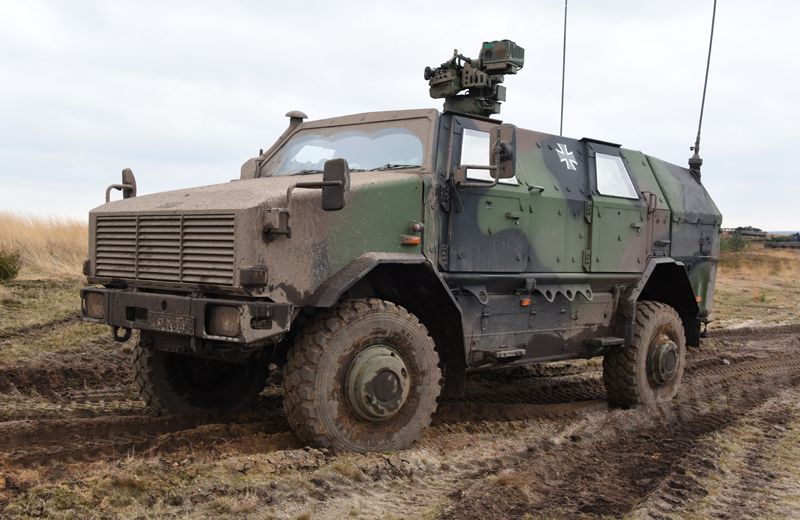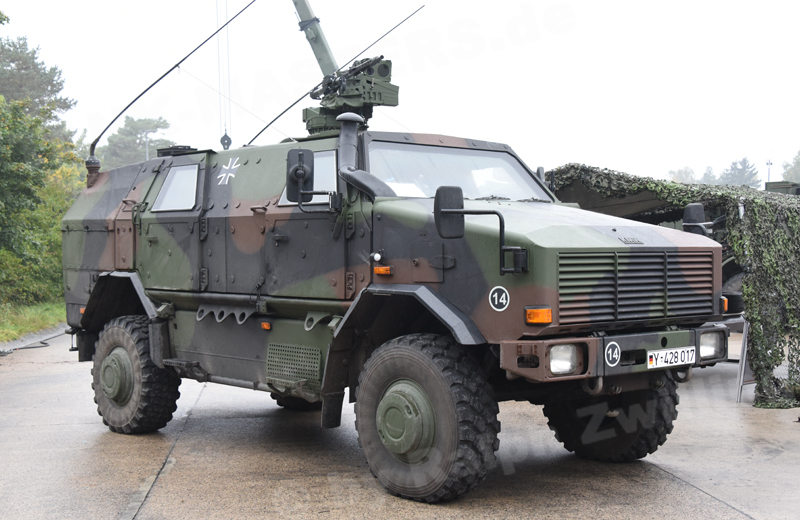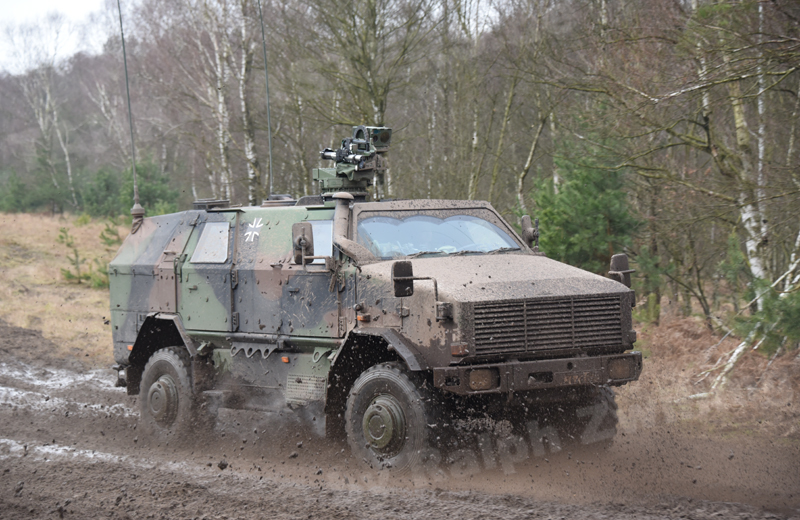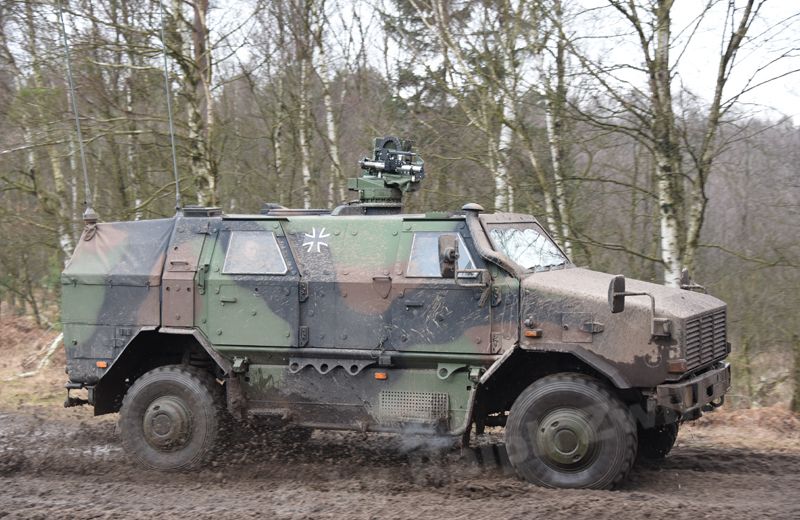 ATF Dingo 2 GE A3 Systeminstandsetzungsfeldwebel
The 25 ATF Dingo 2 GE A3 System Maintenance Senior NCO vehicles that were fielded in 2011 are externally very similar to the ATF Dingo 2 GE A2.3 Patrol and Security Vehicle, but can be distinguished by Comrod VHF3088VM radio antennas. The vehicle offers space for the driver and co-driver in the front, as well as the gunner of the light FLW 100 RCWS and another soldier in the rear area of the armoured cell.
German Army units have technical sections led by system maintenance senior NCOs. These sections are responsible for the preinspection of all damaged material and they therefore have a key operational readiness function. They also conduct the first, efficient and qualified inspection of systems at the location where a vehicle was damaged to enable a detailed description of the damage, to identify easily replaceable parts and to give maintenance or recovery advice. The system maintenance NCO is also an advisor to the company commander in all cases of material maintenance. He organises and plans motor pool activities and preventative maintenance checks and services with technical officers from units, and is responsible for training technical sections.
There are various storage racks in the armoured cell for documents and extensive quantities of test equipment, which include STAR, WABCO and MAN-Cats II diagnostic systems. Furthermore, there is a Rocky III notebook in the storage rack in front of the gunner. Additionally, there is a spade, pickaxe, Torx tool kit, fire extinguisher test system, hydraulic brake test system, hydraulic/gas pressure, BVP 25/35 and airbrake diagnostic systems, special tool kits for impulsecontrolled smoke grenade systems, imperial and metric tool kits, and a folding ladder in the rear storage compartments.
| | Crew: | 4 |
| --- | --- | --- |
| | Gross Vehicle Weight: | 12.500kg |
| | Military Load Classification: | 14 |
| | Length: | 6.11m |
| | Width: | 2.39m |
| | Height with weapon station: | 3.25m |
| | Ground Clearance: | 0.49m |
| | Grade: | 00 |
| | Slope: | 00 |
Download PDF file with sample photos
Publication about the ATF Dingo 2
Yearbook – Armoured Vehicles of the Modern German Army 2018
Yearbook – Armoured Vehicles of the Modern German Army 2019
Yearbook – Armoured Vehicles of the Modern German Army 2020
If you are interested in publishing or purchasing our photos or reports, please feel free to contact us via the following email address: contact@tank-masters.de