BW – ATF Dingo 2 GE A3.2 PersMatTrsp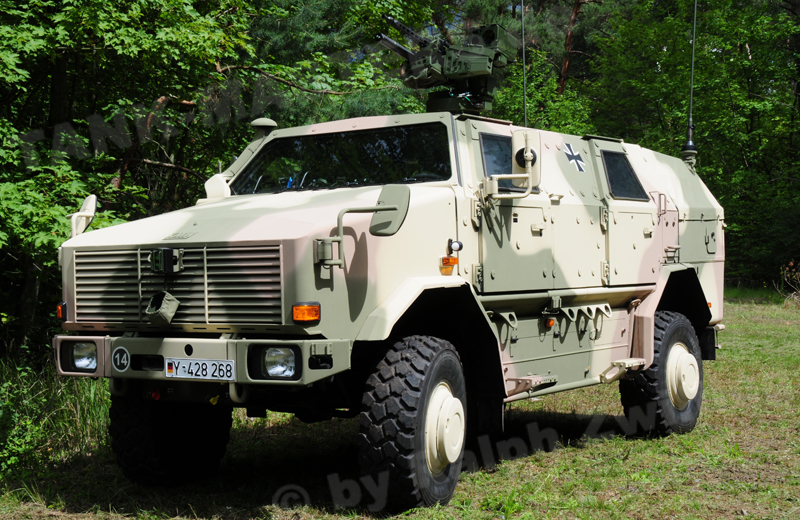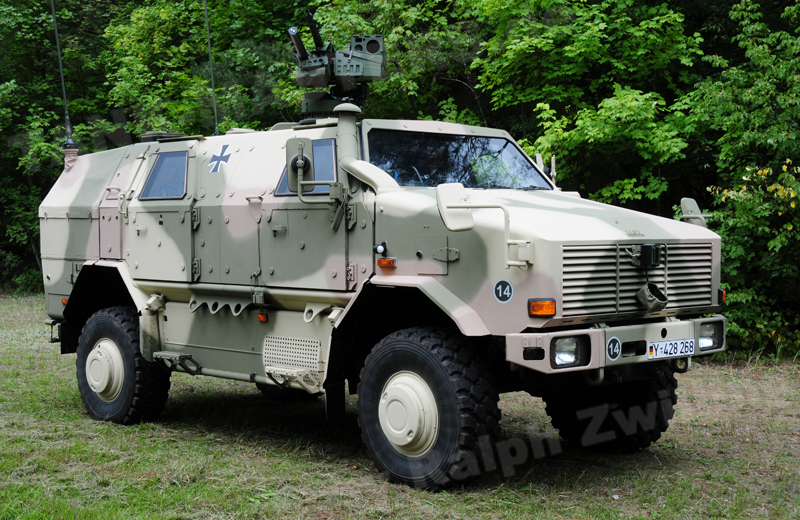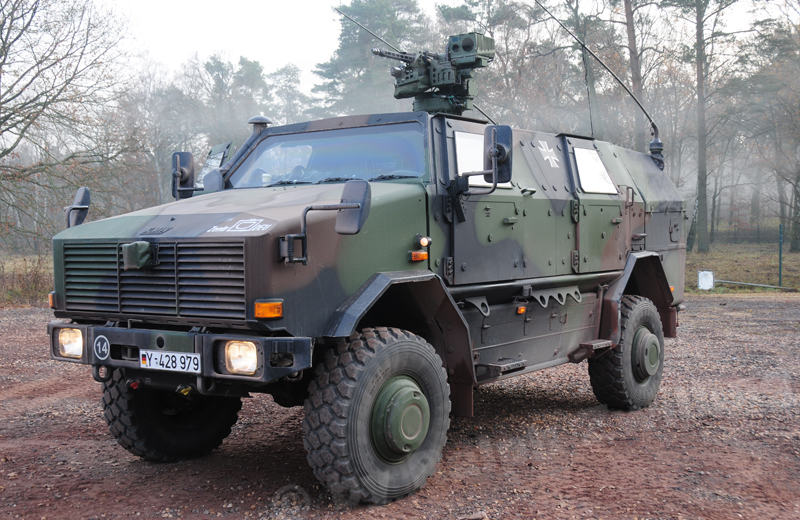 ATF Dingo 2 GE A3.2 Personen- und Materialtransport
The 45 ATF Dingo GE A3.2 Personnel and Material Transport Vehicles ordered on 29 March 2010, armed with the FLW 100 RCWS, are used for reconnaissance missions and to transport personnel and equipment. These vehicles can be used by every branch of the Bundeswehr. In addition to the three-man crew, the interior offers enough space for up to four riflemen in the rear area of the armoured cell. Externally, the vehicle is very similar to the ATF Dingo 2 GE A2.3 Patrol and Security Vehicle, but it can be identified by the rectangular infrared light on the front of the bonnet, and Comrod VHF3088VM radio antennas.
Further modifications include increased armour protection for the ballistic windows, an alternate mounting of the C3I system, a new storage rack in the interior and a storage net for personal equipment in the rear compartment. By installing a smaller storage rack on the left side of the armoured cell, by stowing a portion of the equipment in the rear of the vehicle and by mounting all components of the FüInfoSysH command, control, communications and intelligence system (like the SEM 80/90 VHF radio, workstation computer, KommServer and notebook) between the driver's and co-driver's seats, a seventh seat could be installed. Due to limited space, the Tetrapol system was mounted below the centre seat in the middle of the cell. It includes
transmitter and receiver units plus the power supply. As with all other ATF Dingo 2 versions, the FLW 100 RCWS is controlled by the gunner sitting in the centre of the last seat row in the armoured cell.
In June 2012 the Bundeswehr awarded KMW a contract for 79 ATF Dingo 2 GE A3.2B Personnel and Material Transport Vehicles. In 2018 a total of 27 of these vehicles were equipped with the CG-13 ECM system, which led to the new desgination ATF Dingo 2 GE A3.4B Schutzausstattung CG-13.
| | Crew: | 7 |
| --- | --- | --- |
| | Gross Vehicle Weight: | 12.500kg |
| | Military Load Classification: | 14 |
| | Length: | 6.18m |
| | Width: | 2.39m |
| | Height with weapon station: | 3.25m |
| | Ground Clearance: | 0.49m |
| | Grade: | 00 |
| | Slope: | 00 |
Download PDF file with sample photos
Publication about the ATF Dingo 2
Yearbook – Armoured Vehicles of the Modern German Army 2018
Yearbook – Armoured Vehicles of the Modern German Army 2019
Yearbook – Armoured Vehicles of the Modern German Army 2020
If you are interested in publishing or purchasing our photos or reports, please feel free to contact us via the following email address: contact@tank-masters.de