BW – Eagle IV EinsFzg BAT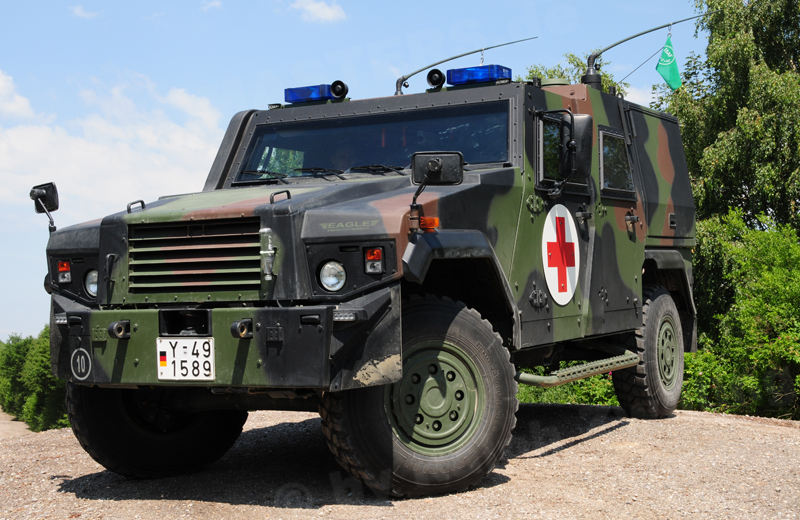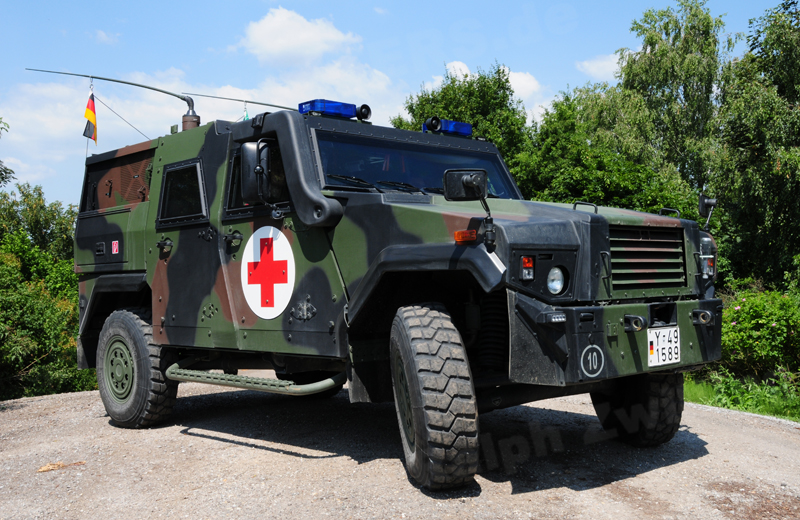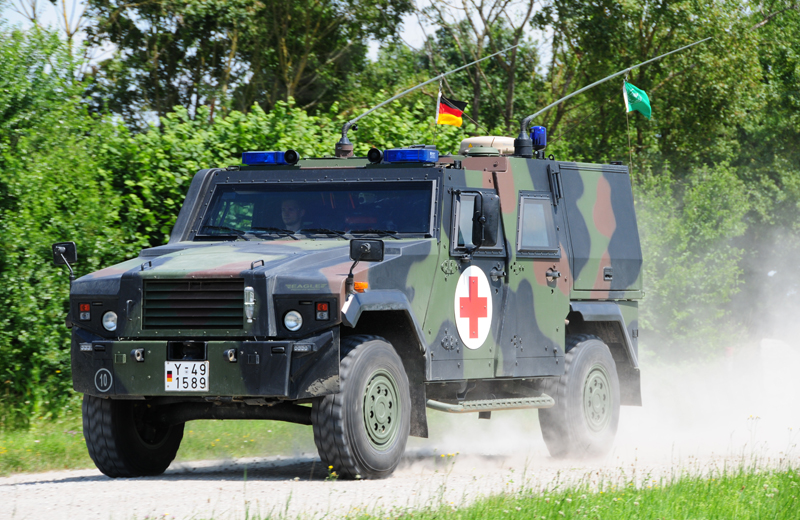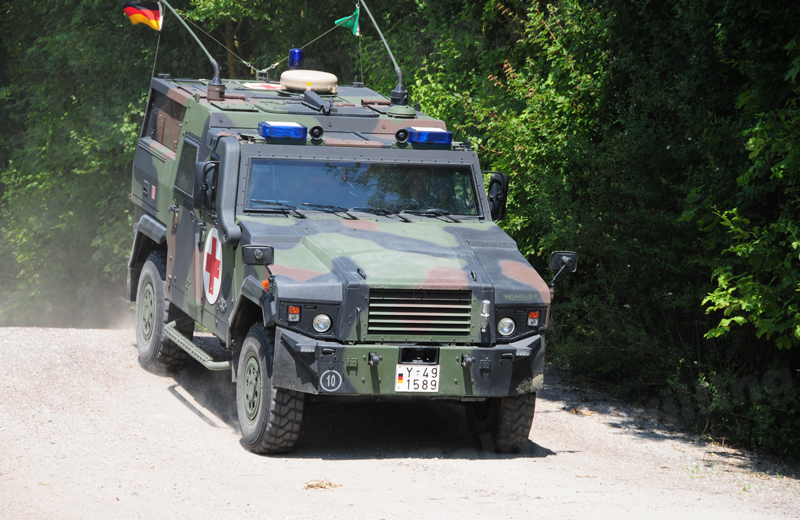 Eagle IV Einsatzfahrzeug Beweglicher Arzttrupp
To provide the Army Medical Corps with another armoured system – besides the Yak, Transportpanzer 1 and heavy armoured medical vehicle based on the GTK Boxer – for recovering wounded soldiers, the Bundeswehr procured 42 air-conditioned Eagle IV Mobile Physician's Group Vehicles. These ambulances are used for emergency medical first aid and to transport injured, wounded or sick personnel of all degrees of severity from the area where they were wounded to a treatment Role 1 (first aid station) or Role 2 (medical centre) medical facility. All the while, medical staff can continuously maintain medical
control and monitor and secure a patient's vital functions.
The three-man crew consists of the driver, paramedic and physician. The vehicle interior offers space for one litter to treat a wounded patient. To assist the movement of wounded and injured personnel into the vehicle and to minimise the medical crew's workload during loading and unloading operations, the litter can be easily pulled out the back. The paramedic's seat is mounted to a frame system so it can slide to the back to treat the patient. The physician usually sits behind the driver.
Due to the extensive medical equipment carried by the Eagle IV Mobile Physician's Group Vehicle, the physician can provide emergency treatment on the move. For example, a first aid rucksack, intubation equipment, refrigerator, injection system, Accuvac suction device, ProPaq vital-function control monitor, defibrillator, two oxygen bottles, vacuum mattress and a recovery blanket are carried aboard.
| | Crew: | 3+1 |
| --- | --- | --- |
| | Gross Vehicle Weight: | 9,500kg |
| | Military Load Classification: | 00 |
| | Length: | 5.42m |
| | Width: | 2.34m |
| | Height up to top of flashing blue light: | 2.70m |
| | Ground Clearance: | 0.40m |
| | Grade: | 60% |
| | Slope: | 30% |
Download PDF file with sample photos
Publication about the Eagle IV Family of Vehicles
Yearbook – Armoured Vehicles of the Modern German Army 2018
Yearbook – Armoured Vehicles of the Modern German Army 2019
Yearbook – Armoured Vehicles of the Modern German Army 2020
If you are interested in publishing or purchasing our photos or reports, please feel free to contact us via the following email address: contact@tank-masters.de