BW – Eagle IV EinsFzg FüPers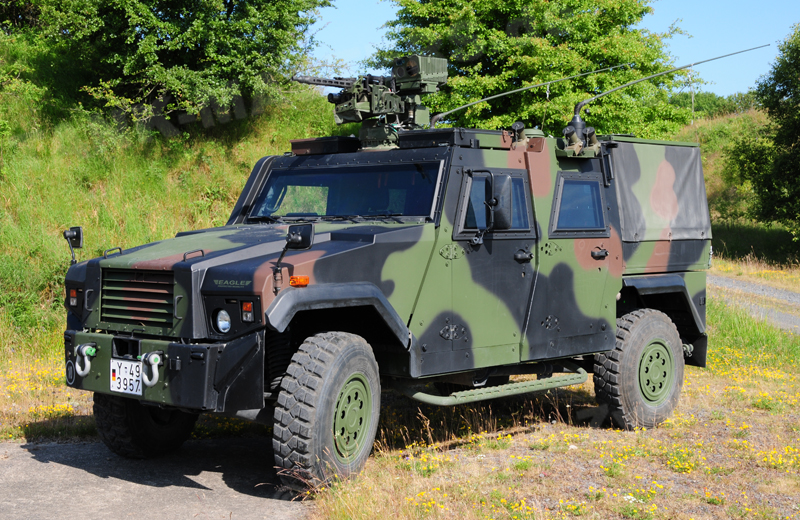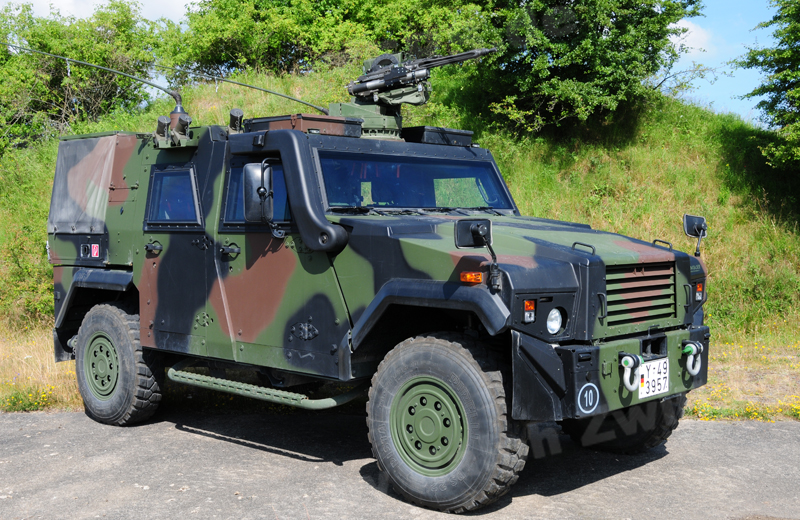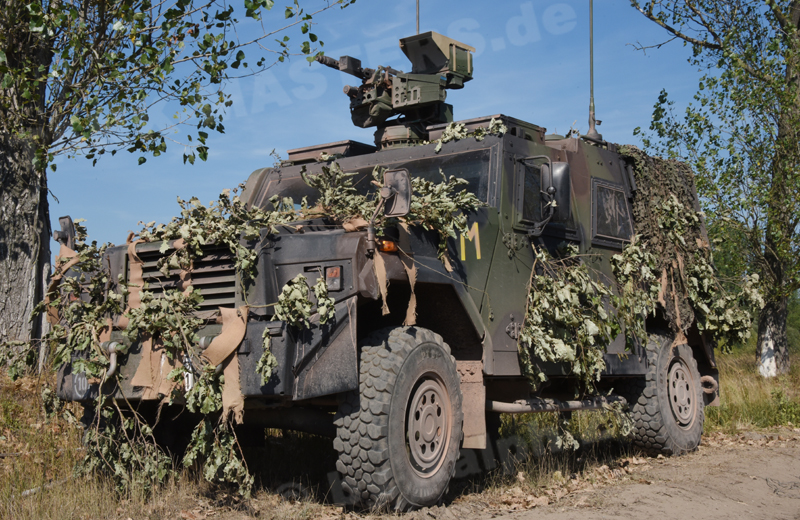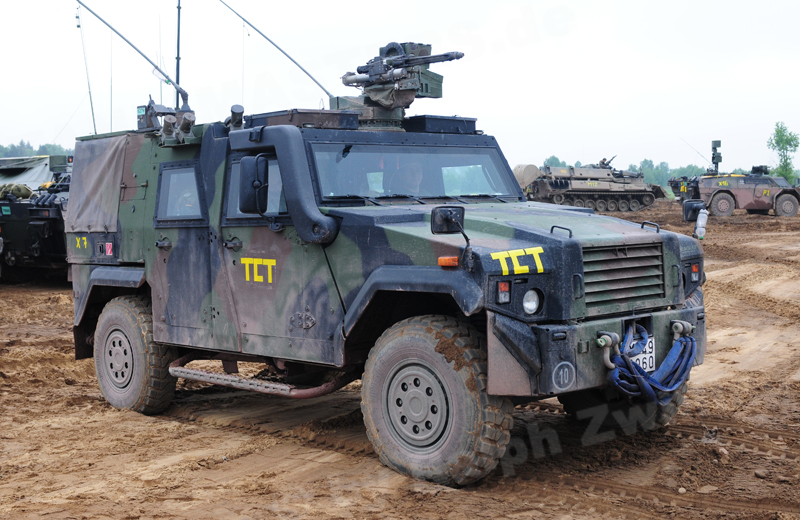 Eagle IV Einsatzfahrzeug Führungspersonal
Overall, 155 Eagle IV Utility Vehicles for Command Staff of the first production lot, 60 vehicles of the second production lot and an additional 195 of the third production lot were delivered. The vehicles of the first and second production lot only differ by the tow bars of the second production lot. The third production lot features a 76 mm smoke grenades discharger system with three launchers per side of the vehicle like with the Eagle IV Patrol Security Vehicle.
Vehicles of the first two lots have a gross vehicle weight of 8.86 tonnes. This weight increased to 9.15 tonnes with the third production lot. Furthermore, with the third series the vehicles received two infrared (IR) blackout lights on the front of the vehicle above the headlights, two storage boxes to the left and right of the mount of the light FLW 100 RCWS, a smoke grenade discharger system and a metal frame to mount antennas like that of the INMARSAT BGAN Explorer 727 above the unarmoured rear storage compartment. Step by step all vehicles of the first and second production lot will be equipped with these features.Within the vehicle interior there are no major differences to the Patrol Vehicle.
If the light FLW 100 RCWS is installed on the mount on the vehicle roof, it is controlled by the gunner located behind the driver. The gunner has a joystick to observe, aim and fire the weapon, as well as a control unit with a 12-inch colour monitor fitted to a special mount. The MG3A1T mounted on the FLW 100 features an interchangeable ammunition box with only 250 ready rounds of 7.62mm x 51 calibre. Reloading is accomplished by opening the roof hatch.
| | Crew: | 4 |
| --- | --- | --- |
| | Gross Vehicle Weight: | 9,150kg |
| | Military Load Classification: | 00 |
| | Length: | 5.39m |
| | Width: | 2.30m |
| | Height up to top of FLW 100: | 2.90m |
| | Ground Clearance: | 0.40m |
| | Grade: | 60% |
| | Slope: | 30% |
Download PDF file with sample photos
Publication about the Eagle IV Family of Vehicles
Yearbook – Armoured Vehicles of the Modern German Army 2018
Yearbook – Armoured Vehicles of the Modern German Army 2019
Yearbook – Armoured Vehicles of the Modern German Army 2020
If you are interested in publishing or purchasing our photos or reports, please feel free to contact us via the following email address: contact@tank-masters.de