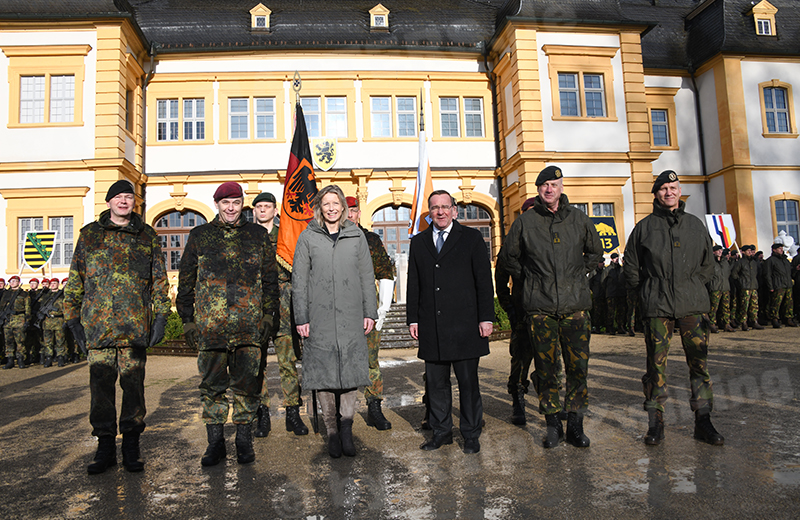 On 30 March 2023, Tank-Masters.de had the great opportunity to attend the parade on the occasion of the subordination of the 13th Dutch Light Brigade under the German 10th Armored Division in Veitshöchheim.
During a ceremonial roll call, the Dutch 13th Light Brigade was integrated into the German 10th Armored Division – a major step that moves the two land forces forward together.
Before the change of subordination with about 300 soldiers in the rococo garden of the Veitshöchheim Residence Palace, the Dutch Secretary of Defense Kasja Ollongren and the German Secretary of Defense Boris Pistorius signed a cooperation agreement in the presence of the Commander of the German Army, Lieutenant General Alfons Mais, and the Commander of the Royal Netherlands Army, Lieutenant General Martin Wijnen. This document is the official basis for the integration of the Dutch brigade into the German division. It regulates the competencies and responsibilities at various levels within the 10th Armored Division.
The 13th Light Brigade from Oirschot in the Netherlands is one of a total of three combat brigades of the Royal Netherlands Army. It includes the armored infantry battalions "Fusiliers Princss Irene" and "Limburgse Jagers" as well as an armored engineer battalion. The brigade is equipped with Bushmaster and Boxer wheeled armored vehicles and Fennek reconnaissance vehicles, the latter two of which are also used by the Bundeswehr.